Strings
Francesco Parrino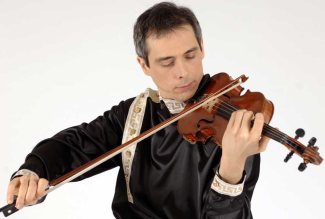 After his musical and humanistic studies at prestigious European academies and universities (Conservatorio "Giuseppe Verdi", Milan; Hogeschool voor de Kunsten, Utrecht; Royal Academy of Music, London; Royal Holloway College, University of London) and with great violin pedagogues such as Yfrah Neaman and David Takeno, he began a solo and chamber career. As a founding member of the Trio Albatros Ensemble and the Quartetto Due più Due he had got an opportunity to perform in important concert all around the world. He has performed as a soloist with several important orchestras, including the Academic Orchestra of the St. Petersburg Philharmonic, the Sicilian Symphony Orchestra and the Turin Philharmonic, and premiered works by Marco Betta and Ennio Morricone. He has contributed musicological papers to international conferences organised by the Universities of Cambridge, London, Oxford and York as well as by the American Musicological Society, and has written articles for American, Austrian and Italian periodicals. Important critics have spoken about "the faithful performances of the intense violinist Francesco Parrino" (Mario Messinis), "the marvel of the terse sound and the airy or diamond-like virtuoso passagework of Francesco's violin" and praised his interpretative approach, "exemplary for the manner in which the musical complexities are poetically resolved with ease" (Alberto Cantù). He has recorded several CDs, some of which are world premiere recordings of works by nineteenth-century virtuoso violinists such as Louis Spohr (works for violin and piano) and Henri Vieuxtemps (works for solo violin), and twentieth-century major Italian composers such as Giorgio Federico Ghedini (Concerto "dell'Alderina") and Gian Francesco Malipiero (Second Violin Concerto). He is the artistic director of the International LeAltreNote Festival-Masterclass and teaches violin at the Conservatorio "Niccolò Paganini" in Genoa.
Maja Virant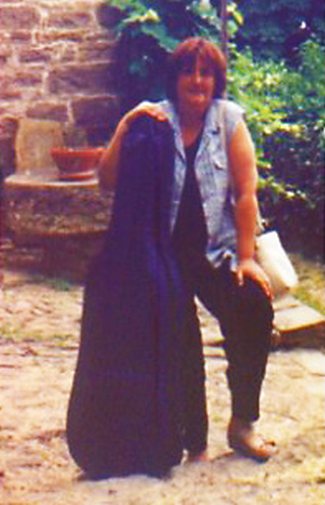 Cellist Maja Virant graduated from the Academy of Music in Zagreb with the Professor Milan Nagy in 1975. During her education, she performed as a soloist with the orchestras and she won numerous awards as soloist and as the chamber orchestra member in national and international competitions. After her graduation she studied with the Professor B. Michelin in Nice. She specialized at Rimsky-Korsakov Conservatory in Petersburg with A. P. Nikitin, one of the leading cellist and pedagogues. Besides teaching in the Music School Blagoje Bersa in Zagreb, she has played in chamber music orchestras, and until 1987 she was an honorary member of the Croatian Radio and Television Symphony Orchestra. In 1985/86 she was Assistant Professor with M. Flaksman on his seminars in Grožnjan.
From 1987 to 1989 she worked with K. Janković as an Assistant Professor at the Academy of Music in Zagreb. In 1993 she founded the Cello Department in the Music Schools in Krško and Brežice (Slovenia). She works as a full-time teacher in the Music school Krško where she participates in the work of the symphonic and chamber orchestras. She won the most prestigious national award Prešernova plaketa for her contribution to the Slovenian culture. Her pupils have won numerous awards and prizes in various national and international competitions.
Marija Ćepulić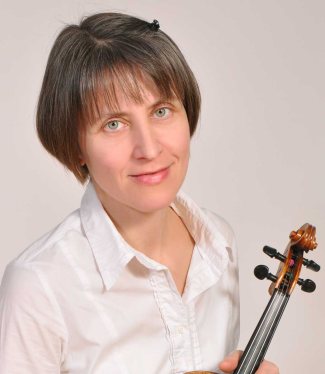 Marija Ćepulić graduated in violin from the Academy of Music in Zagreb with the Professor Kristijan Petrović in 1991 and she continues to improve herself at "Konservatorium für Musik und Theater" in Bern with the Professor Igor Ozim.
She won several first prizes in the violin competitions in Croatia and ex-Yugoslavia, among the others she won a first prize on the Croatian Music Institute competition, she is a laureat of Darko Lukić Forum. She also won the award of the competition Radio podij and the award Stjepan Šulek. She held numerous concerts and recitals in Croatia and abroad and was a concertmaster of the Zagreb Philharmonic Orchestra from 1994 to 1998 when she became an Assistant Professor at the Academy of Music in Zagreb where she works as an Associate Instructor in violin. She is a member of the Croatian Society of the Musical Artists.
Woodwind
Bruno Phillip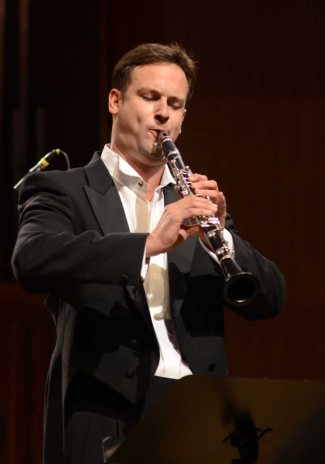 According to music critics, Bruno Philipp (Zagreb 1978) is one of the most prominent representatives of the younger generation of the Croatian clarinetists. With the Music Degree in the class of the Professor Milko Pravdić in 2000, he has created a recognizable artistic expression during his three year training at the Paris Conservatory and while participating in numerous seminars with world-renowned clarinetists.
In his career, he had numerous solo performances, a long successful collaboration with the pianist Ivan Batoš and the cooperation with different orchestras and ensembles. He won many awards, among which are the first place of the 1st Croatian Competition for young musicians Papandopulo (2012), the 2nd place in The International Clarinet Competition in Cluj, 2011 and the award of the Association of Romanian composersHe combines different music genres with different styles and his solo work often includes the premieres of the contemporary authors (some of these even dedicated his works to him): M.Makar, N.Njirić, J.Magdić, T.Uhlik, D.Bobić, O. Jelaska. His performances are often reviewed by radio critics and recorded for the television audience. In 2009 he auditioned successfully for the position in the Croatian Radio and Television Symphony Orchestra.
With his Trio Solenza, he proves himself to be a convincing musician. In 2013 he promoted his CD Židovska glazbena ostavština u zvuku i riječi (Jewish musical legacy in sound and word) recorded by Croatia Records. He also records for the Croatian Radio record library. Since 2011 he has been working as the creator of the Croatian Radio show called Music box. Apart from teaching, he is active in the international symposiums of music pedagogues (Zadar 2008, Pula 2013, Osijek 2014). He is a clarinet teacher and a head of the wind department in two music schools of Zagreb (Music school Zlatko Baloković and Music school Vatroslav Lisinski).
Mauro Conti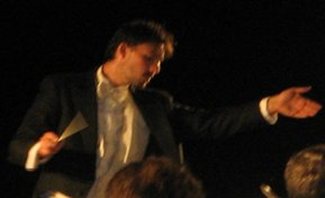 Flutist and conductor, Mauro Conti had a long series of concerts in Italy and abroad. Among the many formations, collaborates regularly with the pianist Alessandro Stella and harpist Barbara Da Parè. He often performed pieces in world première. The composers Sergio Calligaris (Argentina, artist published by Carish and Ricordi) and Daniel Matrone (France, "diapason d'or du siècle" in 2000) have dedicated their compositions to the duo with Alessandro Stella, on the occasion of their tenth year of activity and the record label Continuo Records has published a CD with important reviews by several specialist magazines in Europe.
His repertoire ranges from baroque to contemporary. Conductor of the choir "Non Solo Note" is the founder of the choir and orchestra "Roma Ensemble" in Rome, of which he is also principal conductor. He devoted himself much to opera like conductor and often like producer. Among the authors represented include: Rossini, Verdi, Puccini, Mozart, Pergolesi, Purcell, Händel, Kalman, Lehàr, Benatzky.
He directed several orchestras, included: the Romanian State Orchestra of Satu Mare and the Opera Orchestra of Cluj, the orchestra "Opera da Camera di Milano", the orchestra "L'Anello Musicale", the Kharkov Philharmonic Orchestra (Ukraine), the "Orchestra ICO della Magna Grecia", the orchestra "Young European Strings" and the orchestra "Paris Ensemble".
Performer and researcher of an ancient folk music, arranges music for the instrumental group "Terrenote", with whom he performed as a multi-instrumentalist and a singer.
He has recorded flute duets by C. Ciardi to a Vatican Radio broadcast, in absolute first recording. His musical eclecticism leads him to collaborate with Tito Schipa Jr. to the publication of the score of "Orfeo 9", the first Italian rock opera.
He teaches in several music schools in Rome and he was principal of music academy "Antonio Lamotta" in Sondrio (Italy). He had several international masterclasses in Italy.
Dario Golčić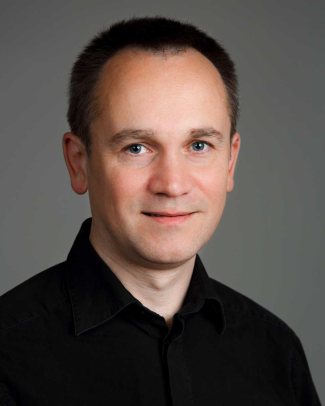 Dario Golčić was born in Zagreb where he attended elementary and high music school and studied oboe with the Professor Branko Mihanović. Later he studied with Heinz Hollinger and Christian Schmitt. He has won several first prizes in national and international oboe competitions. As soloist, he has performed with Cantus Ensemble, chamber orchestras from Freiburg and Heidelberg and with the Basel New Orchestra. He has been an Assistant Professor in the International Summer Youth Orchestral Camp (BISYOC) since 2006. He is a member of the Croatian Radio and Television Symphony Orchestra (as a principal oboist) and since 2009 he has been teaching the oboe at the Zagreb Music Academy
Dr. Levente Puskás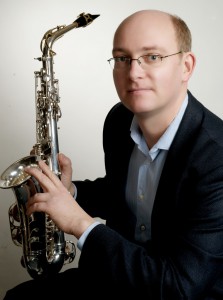 He was born in 1972 in Budapest. He was 7 years old when he started learning piano and 11 years old, when started clarinet.
From 1990 to 1993 he studied clarinet  at St. Stephan Conservatoire, Budapest and he was the solo clarinet player in  the St. Stephan Symphony Orchestra.
From 1993 to 1998 he studied clarinet at the Ferenc Liszt Academy of Music, Budapest, where his teacher was prof. Tibor Dittrich. He graduated in 1998 as a clarinet and chamber music artist and clarinet teacher.
In 1994 he won second prize at the  "Young Artist Competition " in Chicago.
In 1995 he established with three fellow musicians the Budapest Saxophone Quartet. With this ensemble he won six prizes at national and international competitions (1995. and 1996. Liszt Ferenc Academy of Music Chamber Music Competition – I. Prize, 1996. International Chamber Music Competition Osaka,Japan – Special Prize, 1997. International Chamber Music Competition Trapani, Italy – IV.Prize, 1998. International Chamber Music Competition Caltanisetta, Italy – III.Prize, 2000. Gustav Bumcke Wettbewerb Dortmund, Germany – II.Prize)
Between 2002 and 2004 he studied chamber music along with the Budapest Saxophone Quartet at the CNSMDP in Paris (Conservatoire National Supérieur de Musique et de Dance de Paris) under the guidance of prof. László Hadady.
In the year 2006/2007 he also obtained a degree as a saxophone performer and teacher from Conservatoire National de Musique et de Dance ,Montreuil under the guidance prof. Jean-Pierre Baraglioli.
He participated in several master courses (Michiel Oldenkamp – Netherland, Eugéne Rousseau – USA, Thomas Friedli – Suisse, Oto Vrhovnik – Austria) and with the quartet he represented the hungarian saxophonists at the World Congress organized in Montreal (Canada) 2000 and in Minneapolis (USA)  2003.
Between 2009 and 2014 he studied at the Academy of Music, Banská Bystrica, Slovakia ( Akadémia umeni v Banskej Bystrici) , where he got the DLA degree in June of 2014. His theacher was Prof. Alexander Stepanov.
He worked with numerous world famous artists:
Zoltán Kocsis, Iván Fischer, Ádám Fischer, Andrea Rost, Peter Eötvös, Heinz Holliger, Marek Janowski, Leonidas Kavakos, Vadim Gluzman, Aldo Ceccato, Alexander Vedernikov, György Vukán, Gergely Vajda, Christian Wirth, Lars Mlekusch, Mario Giovannelli, etc.
From 2000 he teach saxophone in the Béni Egressy Conservatoire, Budapest and from 2006 in the Music Faculty in the University of Debrecen.
Brass
Dario Teskera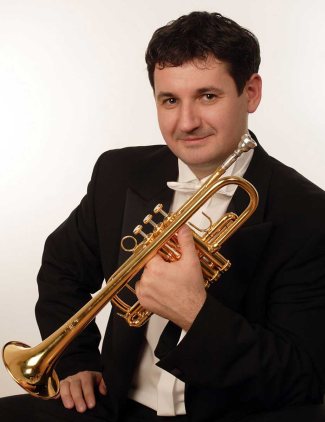 Dario Teskera graduated from the Academy of Music in Zagreb in 1995 with the Professor Stanko Selak. For two years, he attended private lectures of the professor Anton Grčar, a trumpet professor, at the Academy of Music of the University of Ljubljana. From 1994 to 1996 he was a member of the Symphonic Wind Orchestra of the Croatian Army. In 1996 he began his two year specialization at the Bremen Trumpet Academy (Trompeten- Akademie Werder). During his education in Bremen, he attended lectures of the prominent professors and lecturers. He gained the experience of playing in the orchestra with the Bremen Philharmonic Orchestra. He participated in many opera and concert projects.
He has been a soloist of the Croatian Radio and Television Symphony Orchestra since 1998. As a soloist, he performed with many Croatian and foreign orchestras among which are his solo performances with the Croatian Radio and Television Symphony Orchestra in the Vatroslav Lisinski Concert Hall and performances with the chamber orchestra Cappella Istropolitana from Slovakia. He has performed in all the major music festivals of Croatia.
In 2010 he premiered the Concerto for trumpet and strings which was composed for him by the Croatian composer Davor Bobić. Dario Teskera was a member of the Zagreb Brass Quintet, Ad Gloriam Ensemble, Vallis Aurea Trio and of Simply Brass Ensemble. He is a jury member in many young musicians competitions in Croatia, Bosnia and Herzegovina, Serbia, Macedonia, and in collaboration with the Croatian cultural association, he is a jury member in festivals and competitions of the amateur wind orchestras.
He was a member of the Zagreb Cultural Council (for music activities) from 2009 – 2013.
Since 1999 he has been teaching at the Academy of Music in Zagreb.
At the moment he is an Associate Professor at the Academy of Music in Zagreb and in Sarajevo and a permanent collaborator of the Croatian Radio and Television Symphony Orchestra.
Branislav Aksin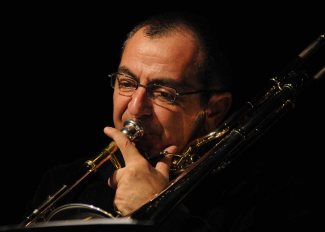 Branislav Aksin was born on 1959 in Novi Sad. He started to play trombone in the Music School "Isidor Bajić" in Novi Sad. He graduated in 1985 and he gained his master's degree in 1989 at the Faculty of Music Arts in Belgrade with the Professor Vinko Valečić. During his studies he received the highest awards in national and international competitions. He won the award in the Yugoslavian Music Artists' Competition in Zagreb in 1987.
As a soloist and as a member of various chamber ensembles, he held numerous concerts in country and abroad and he participated in various festivals like Nomus, Bemus, Forum of the Yugoslavian Artistic Creation in Opatija, the Music Biennale of Zagreb, etc.
In 1989 he started a collaboration with the Paris Theatre Jel. With them he performed in many European countries.
As a member of the chamber orchestra "Camerata accademica" and of the ensemble "Sonemus" from Sarajevo and as a member of the Brass Quintet from Novi Sad, as well as soloist and member of many other ensembles, he performs at Nomus Festival (Novi Sad), Bemus Festival (the Belgrade Music Festival), International Composers Forum in Belgrade and in many other concerts in Novi Sad, Belgrade, Zurich, etc. He is also the founder of the trombone quartet "T-boNeS 4".
He is a solo trombonist of the Opera Orchestra of the Serbian National Theatre in Novi Sad and he is a full professor at the Academy of Arts in Novi Sad.
Boštjan Lipovšek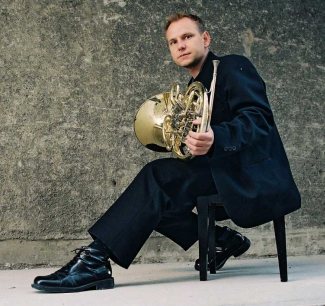 Boštjan Lipovšek is a principal horn of the RTV Slovenia Symphony Orchestra. His tutors were his father, his brother and Jože Falout. He studied with Falout at the Ljubljana Music Academy, where he graduated, completed his MA and, subsequently, taught. He went on to study with Radovan Vlatković at the Mozarteum of Salzburg. He performed with the Slovenian Radio Symphony Ljubljana, Slovene Philharmonic Orchestra and most of the leading orchestras in ex Yugoslavia area. As guest principal horn player worked with some distinguished orchestras like Berlin Symphony Orchestra, Opera La Monnaie Brusseles, Melbourne Symphony Orchestra, Mahler Chamber Orchestra and the Israel Philharmonic Orchestra, Scottish Chamber Orchestra, Australian Chamber. He's been frequently hired to perform and tour with the Budapest Festival Orchestra under Ivan Fisher.
As a soloist Lipovšek performed alongside conductors such as Anton Nanut, Uroš Lajovic, En Shao, Yakov Kreizberg, Sian Edwards… He won the international Competition of Porcia, Italy and was awarded the Prešeren Prize from the Ministry of Culture of Slovenia (2008). He's been teaching at the Music Academy in Ljubljana sinces 1998 and since 1995 also in Zagreb, Croatia.