Piano
Dalibor Cikojević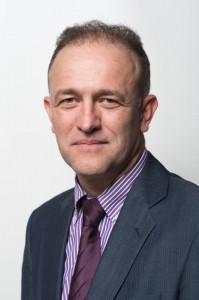 Dalibor Cikojević started his music education in Split when he was only seven and he graduated from High School of Music studying under Jelka Bakašun. After that, he went to Vienna where he studied at the "Musikhochschule" under Alexander Jenner who mentored him throughout his master's degree. His further artistic maturation was enriched by practising with Oleg Maisenberg and studying Instrumental Pedagogy under the guidance of Carmen Graf Adnet.
From his early youth, he performs at various festivals (Split Summer Festival, Zagreb Summer Festival, the Dubrovnik Summer Festival, Musical Evenings at St Donat's church, Osor Musical Evenings, The George Enescu Festival, Raba Musikfestival and Wiener Festwochen).
Under the guidance of conductors such as Pavle Dešpalj, Nikša Bareza, Ivan Repušić, Peter Burwik, Georg Schmöhe and Michael Dworzinski, he made some well-received appearances with all major Croatian orchestras and with the Wiener Ensemble des 20. Jhd. In the field of chamber music, he has collaborated with the Zagreb Soloists, the String Quartet Sebastian and many other prominent musicians from Zagreb and Vienna. His repertoire lists cover a wide range of styles (from the Baroque music to the contemporary works of the 21st century).
He has managed to attract the attention of the audience performing the works of the Croatian composers Boris Papandopulo and Božidar Kunac. This is evidenced by five CD albums that have recorded the anthological works of these composers for the first time. He also won the Croatian Music Society award "Milka Trnina" for his special artistic achievement while a CD on which he performs Papandopulo's "The Third Piano Concerto", together with the Zagreb Philharmonic Orchestra, won the music award "Porin" for the best album of classical music.
Dalibor Cikojević also gained a reputation as a writer publishing three novels which make a remarkable trilogy; "Ostavština posljednjeg skladatelja" (The legacy of the last composer), "Posljednja violina Niccoloa Amatija" (The last violin by Niccolò Amati) and "Virtuozi, muze i striptiz" (Virtuosos, muses and striptease – Leykam international). The third one was translated into German and won the "Steiermärkische Sparkasse" prize for the best foreign novel.
Dalibor Cikojević worked as a music teacher in Austria for many years, among others at the Universität für Musik in Vienna. He is currently a Full Professor and he holds the position of Dean at the Music Academy in Zagreb.
Peter Tuite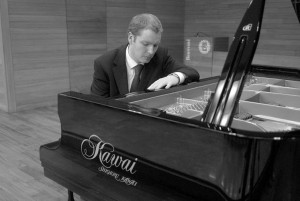 Praised for his "astonishing technical facility", "singing line" and "perfect sense of balance", Peter Tuite is now widely regarded as one of Ireland's leading classical musicians and one of the stand-out talents of his generation. Over the past decade he has garnered considerable international acclaim for his recital and concerto appearances throughout the world. More recently, his twelve concert joint traversal of the complete 52 Sonatas for Keyboard by Joseph Haydn was met with exceptional reviews; and he has just completed a new multi-media filmed performance of the Goldberg Variations at the famous Long Room Library–a unique project scheduled for release later this year.
Educated at Trinity College Dublin, the University of Oxford and as a Fulbright Scholar at the Peabody Institute of the Johns Hopkins University, he subsequently went on to become Head of the Keyboard Faculty and later the first Senior Dean of the Royal Irish Academy of Music. He is (since October 2015) currently the Head of Piano and Keyboard Instruments at Trinity Laban Conservatoire of Music and Dance. Along with numerous further concert appearances, upcoming projects include the recording and filming of the complete Haydn Sonatas for Keyboard and a new series of compositions based on short portraits of Dublin entitled Palm of the Hand Portraits, which will have its world premiere in 2016.
Sergio de Simone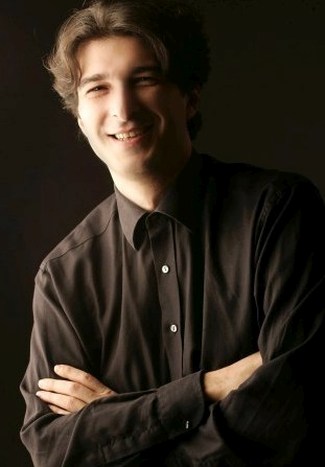 Winner of several International Piano and Chamber Music Competitions, Sergio performed in Italy, France, Spain, Usa, Croatia, Slovenia, South America (Società dei Concerti -Milan, Amici della Musica-Florence, Accademia Musicale Chigiana -Siena, Associazione "A.Scarlatti" di Naples, Sagra Musicale Umbra, Teatro Massimo "Bellini" – Catania, "Valli" – Reggio Emilia, "Verdi"- Pisa, Teatro Rossini-Pesaro, Teatro Bibiena -Mantova, Mills College Hall -Okland, Festival Internazionale di Torroella de Montgrì, Winter Festival di Sarajevo, Venezia Biennale Musica, ecc). As soloist he appeared with la Camerata Strumentale-Città di Prato, Orchestra da Camera di Padova e del Veneto, Meadows Symphony Orchestra, Orchestra Sinfonica Siciliana, Rumanian State Orchestra, Sarajevo Philarmonic Orchestra with conductors such as Jonathan Webb, Paul Philips, Samra Gulamovic, Alessandro Pinzauti, Daniele Giorgi etc. His chamber music partners are Pavel Barman, Markus Placci, Amalia Hall, Violeta Smailovic, Maxance Larrieu , Francesco Loi, Wladimir Kossianenko, Yevgeniy Xaviereff e Manfred Stilz, il Quartetto Fonè e il Quartetto Bernini.
Sergio is a Professor of Piano at Trinity Laban Conservatoire of Music and Dance in London (UK), Istituto Superiore di Studi Musicali "Mascagni" in Livorno (Italy) and at Scuola di Musica di Sesto Fiorentino (Florence) where he is also Director. He is regurarly invited to give Piano and Chamber Music Master Classes and Summer Courses in U.S.A, Italy and Croatia.
He is also active as collaborative pianist for the Mozarteum in Salzburg, Accademia Chigiana in Siena and Amici della Musica in Florence, working with Shlomo Mintz, Yuri Bashmet, Carl Leister, Maxance Larrieu, Markus Stokhausen, Kolja Blacher, Viktor Tretiakov, Stephen Burns, Richard Stoltzman, Harvey Shapiro, Alessandro Carbonare.
Sergio graduated from Parma Conservatoire with Honorable Mention. After his graduation he moved to the States where he studied with Joaquin Achucarro at SMU (Dallas, TX) and attended several masterclasses with Aldo Ciccolini and Murray Perahia and Franco Rossi (cellist of the Quartetto Italiano).
Guitar
Dejan Ivanović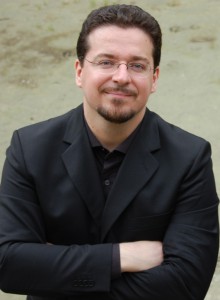 DEJAN IVANOVIĆ was born in Tuzla in 1976. He studied guitar with P. Stanković and V. Ivanović at Music school and with D. Petrinjak at the Academy of Music (University of Zagreb). He has participated in master classes under the guidance of K. Kotsiolis, R. Dyens, E. Fisk, T. Müller-Pering, G. Biberian, V. Dešpalj, M. Stein-Kühler and others. His professional career started while he was at university (from 1994 to 1998), and he has appeared in some of the most prestigious music festivals, including the Spoleto Festival (personally invited by Gian Carlo Menotti), the Edinburgh Festival, the Estoril Summer Festival and the Porto 2001 – European City of Culture, the Gevelsberg Guitar Festival (Germany), etc. As soloist, he performed with the Royal Chamber Orchestra of Wallonia, the Vojvodina Symphonic Orchestra, the Lisbon Metropolitan Orchestra, the Beiras Philharmonic Orchestra (Aveiro, Portugal), etc. He collaborated with G. Octeaurs, Mario Pilar-Vaño, Miguel Graca-Moura, Berislav Skenderović, Jesus Amigo, Hsiao-Lin Liao and many others. He actively collaborates with the Lyra String Quartet (Portugal), a cellist Jed Barahalom (USA), a soprano opera singer Ana Esther Neves (Portugal) and with the Greek guitar player Michalis Kontaxakis (they have been performing together as a duo since 2004).
He is the winner of the following prizes: the first prize and the special prize for the best interpretation of Spanish Music at the Thirteenth International Guitar Competition "Doña Infanta Cristina" in Madrid in 1998, the first prize in the International Competition "Sinaia" '98 in Romania, the first prize in the Seventeenth International Guitar Competition "Andrés Segovia" in Herradura (Spain) in 2001, then the first prize and the audience prize in the 35th International Competition "Francisco Tárrega" in Benicásim, Spain, the first prize in the International competition "Arhanes" 2005 (Crete, Greece). He is also a laureate of international contests in Italy, Belgium and Portugal. His recitals have been praised by both public and critics. He has also recorded several CDs.
Dejan Ivanović has been teaching the guitar at the University of Evora (Portugal) since 2007. In 2015 he has earned a PhD.
Marko Feri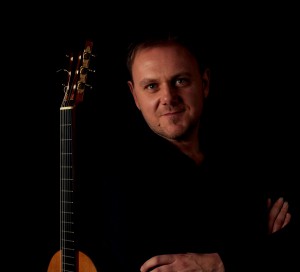 Marko Feri took his Diploma in guitar at the G.Tartini conservatory in Trieste (Italy) and then attended many master classes with D.Russell, M.Barrueco and A.Ponce. He performs regularly at important music festivals in Europe (Italy, Slovenia, Croatia, Spain, Germany, France, Romania, Bosnia, Serbia, Montenegro, Albania, Austria, Belgium, Switzerland, Hungary), USA (GFA 2006 – Columbus GA, GFA 2012 – Charleston SC, and other festivals in New York State, Texas, Ohio, Virginia, North Carolina, Tennessee), Canada (Toronto Guitar Society Series 2011, 2012), Mexico, Australia and Japan, both as a soloist and with chamber music ensembles – Gorni Kramer Quartet, and as a duet with accordionist S. Zorza and with flutist A. Zupan.
He has recorded several CDs: Vivo (2014) and Nocturnal as soloist; Strolic (2014) with Natissa choir (music by Sivilotti); Castelli friulani (2014) with flutist N. Mazzanti (music by G.Tortora); Notes Vagabondes – Live and Modulante with Gorni Kramer Quartet; 20th Century Original Works For Flute And Guitar with E.Michelazzi; Viva Sevilla with the Italian Guitar Consort; Astor Piazzolla-Orchestral Works with the Concordia Chamber Orchestra; Evasion (music by Piazzolla and Bolling) with Evasion group. He teaches guitar at the Glasbena Matica Marij Kogoj in Trieste-Italy and gives master classes in Europe, USA, Canada and Mexico. He is also the art director of the International Guitar Festival Kras (Italy/Slovenia).
Heiner Donath
Heiner Donath, born in Jena in 1968, began playing the guitar when he was 10 years old and he won many prizes in regional competitions.
He studied with Jürgen Rost at the "Franz Liszt" Academy of Music, Weimar, where he gained a concert diploma. He participated in master classes held by renewed artists such as David Russel and Thomas Müller-Pering. Later on, he continues his studies with Alberto Ponce in Paris.
He won the prizes at the "Fernando Sor" International Guitar Competition in Rome (1994 and 1995) and at the "Printemps de la guitar" International Competition in Belgium (1994, 1998 and 2000).
Nowadays Mr. Donath performs in Germany, Belgium, France, Spain, Switzerland, Slovakia and many other countries.
He was a tutor at the "Franz Liszt" Academy of Music, Weimar, and at the "Felix Mendelssohn Bartholdy" University of Music and Theatre, Leipzig. He also works as a guitar teacher at music schools in Weimar, Jena and Erfurt. He is a headmaster of the "Johann Friedrich Fasch" Music School in Zerbst, the President of the Guitar Society Weimar (organizer of the International "Anna Amalia" Competition for Young Guitarists), and a Vice-president of the Thuringian Music Council.
His broad repertoire ranges from Bach, through the Classics to contemporary works (many of which have been written for him and premiered by him). His debut CD "Fernando Sor Recital" (1995) was acclaimed by the press. He has also recorded two CDs with his partner, Antje Donath: "Music from Viennese Classics for Violin and Guitar" and "Paesaggio Lunare". The two of them perform as a duo.
Maroje Brčić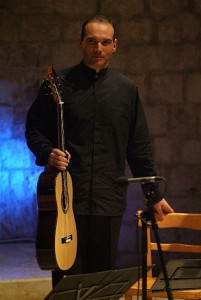 Maroje Brčić was born in Dubrovnik where he started playing the guitar at the age of 7 under the guidance of his father Stefanin Brčić. Maroje finished High School of Music studying under István Römer and graduated from the Music Academy studying classical guitar under Darko Petrinjak.
He teaches guitar at the Academy of Arts (University of Split) and he is often a jury member of the Croatian competitions. Maroje regularly gives master classes and lectures.
More than 25 years he performs as a soloist, as a soloist with orchestra and as a member of various chamber ensembles. He performs in Croatia, Europe, Asia and North America.
Brčić encouraged many composers to write music for guitar. Some of the distinguished Croatian composers such as Željko Brkanović, Nikša Njirić, Ivo Josipović, Berislav Šipuš, Philip Bracanin, Anđelko Klobučar and Zoran Juranić wrote their works for one or more guitars, for a guitar and flute and for three guitars and voice.
He received a prize from the Rector of the University of Zagreb and the "Milka Trnina" award with the Dubrovnik Guitar Trio. Together with Zoran Dukić, he won a distinguished "Orlando Prize" for the best music performance at the Dubrovnik Summer Festival.
He published a book in which he elaborates on the interpretation and playing techniques. He has also released six compact discs for the labels in Croatia and Austria.
Singing
Snežana Nena Brzaković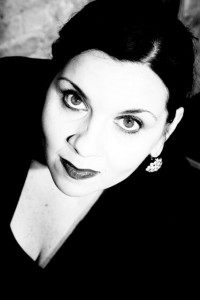 Snežana Nena Brzaković studied at the Academy of Arts in Novi Sad with B. Cvejić and she graduated from the Faculty of Music in Belgrade (Serbia) where she studied with R. Smiljanić. She earned a Performer's Diploma (Konzertexamen) at the School of Music in Berlin studying with Norma Sharp. She finished her postgraduate studies in the field of functional breathing techniques for singers and wind instruments in Düsseldorf and she specialized herself studying with the eminent musicians of the operatic scene (B. Fassbaender, I. Borgh, S. Skigin).
She has started her solo career in Germany playing the main role in the opera by K. Weil Der Zar lässt sich fotografieren (Dessau), and afterwards she performs on the opera podium as well as in concerts in Austria, Germany, Lithuania, Poland, Ukraine and Belarus.
Nena has received the "DAAD – Prize" for the best foreign artist and the special prize of the International competition "Hilda Zadek" (Passau) for her performance of Wagner's works. From 1997 to 2007 she was working as an Assistant Professor at "Hanns Eisler" School of Music in Berlin, teaching singing, methodology and breathing techniques for singers and wind instruments.
In 2007 she founded the "Institut für Gesang und Atemschulung" (Berlin) and since the same year she has been teaching as a Visiting Professor at the Lithuanian Academy of Music and Theatre (Vilnius) while all of this was happening in the collaboration with the Goethe-Institut.
Since 2007 she has been working as an Assistant Professor and artistic selector of the International Opera Festival (Oper-Oder-Spree) in Germany. Due to this position, she has given over 40 scholarships to the young singers from the countries of the former Yugoslavia (Oper-Oder-Spree festival has been a springboard for many of them). In 2013 she started teaching courses on breathing and vocal techniques at the Conservatory for Music and Ballet in Ljubljana. She is a jury member of the international competitions and a vocal coach in various opera productions, state opera houses (Komische Oper Berlin) and opera festivals. Her students won many important awards all over the world. Since 2015, she has been working as a vocal coach at the Berlin State Opera.
She is a member of the following associations: the Association of German Artists, the German Singing Teachers Association, the International Association of Teachers of Singing and the German Association for Music Physiology and Musicians' Medicine.
Edita Garčević Koželj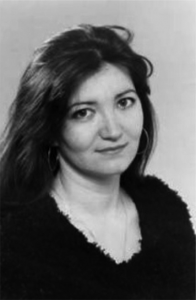 Edita Garčević Koželj – a concert and opera singer, an adviser in the field of musical education, a singing teacher at the Conservatory of Music and ballet in Ljubljana , a Teacher Assistant at the Academy of Music in Ljubljana and the president of the Society of Slovenian singing educator (DSPP).
She graduated from the Faculty of law at the Belgrade University and she finished the secondary music schools "Dr. Vojislav Vučković" (accordion) with Dragan Radosavljević and "Josip Slavenski" (solo singing) with D. C. Spasić. After this, she continues her musical education in Ljubljana, at the Academy of Music with Eve Novšak Houška, where she graduated summa cum laude.
Her postgraduate study and artistic training leads her to Vienna, to the Hochschule fur Music and Performing Arts, where she studies with Leopold Spitzer and Michael Temme, graduating with another performer's diploma. She regularly attends seminars held by the eminent singing pedagogues and opera singers (B. Cvejić, H. Lazarska, T. Hampson, Kiri Te Kanawa, M. Lipovšek, A. Burgstaller…).
Her career initially followed two paths – concerts and opera. As a concert singer she has performed a wide variety of vocal and instrumental works, concerts and recitals in almost all major cities of the former Yugoslavia, as well as abroad (Germany, Italy, Spain, USA …).
As a soloist of SNG Opera and Ballet Ljubljana, she made a series of opera roles (Dorabella, Paulina, Dryade, Lisinga, Fidalma, Kascheyevna, Vanya, Tatiana, Marcellina, Fenena, Mercedes, Suzuki, Magdalena, Smeraldina, Linetta, Berta…), she has also performed at the Maribor Opera and at the National Theatre in Zagreb .
Numerous concerts and successful participation of her pupils and students in various international competitions and festivals as well as the fact that many of them have already been professionally engaged in Slovenia and abroad, demonstrate her commitment and the seriousness of her educational work.
She is a jury member of various international singing competitions and music festivals, she holds singing seminars and seminars on vocal techniques for singers, choral singers and jazz singers (International festival of Bled , Perpetuum Jazzile, APZ Tone Tomsic, KZ AVE…), she organizes lectures and seminars of eminent lecturers and singers for singing educators and students on behalf of the Society of Slovenian singing educator (Slovenian Vocal Days, World voice day Day – 16th of April,…).
In addition to her pedagogical work, she promotes classical music, solo songs and operatic literature among young people, she is directing and participating in various projects and interactive opera performances.
Giorgio Surjan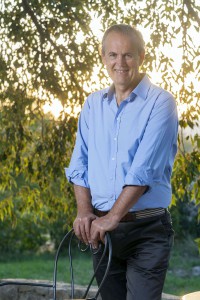 An opera singer, bass baritone Giorgio Surjan had his debut in Rijeka in 1977 as Sulejman in the opera "Nikola Šubić Zrinski". In 1978, after participating in the International Competition
"Voci Verdiane" in Busseto, he won the audition at the Teatro alla Scala Academy where he has studied for 3 years. During his studying, he was engaged to sing at the La Scala theatre, on the podium of the theatre La Piccola Scala, at the chamber operas such as "The Stone Guest" (Dargomyzhsky), "La testa di bronzo" (Solvi), "Il sosia" (Testi), "Albert Hering" (Britten) and concerts organized by Centro di Perfezionamento per Cantanti Lirici del Teatro alla Scala.
In 1980, he had his debut at the La Scala theatre in "Christ on the Mount of Olives" (Beethoven) and in "Ernani" as Silva (bass). This was the beginning of his international career.
He performed in Paris ("I Puritani", "Macbeth"), Zürich ("Macbeth"), Wienna ("The Journey to Reims", "The Barber of Seville", "Lucia di Lammermoor"), London ("Cindarella", "Lucia di Lammermoor"), Madrid ("The Damnation of Faust", "Love Potion", "Fidelio"…), Lisbon (Verdi's "Requiem", "La Serrana"), Moscow ("Capuletti e Montecchi"), Frankfurt ("Cosi fan tutte", "The Tales of Hoffman"), Berlin ("The Journey to Reims"), Athens ("Attila"), New York ("The Barber of Seville"), Mexico City (Verdi's "Requiem"), Tokio ("The Journey to Reims", "Capuletti e Montecchi"), Milan (La Scala – where he has performed 30 different roles), Rome, Genoa, Venice, Trieste, Verona, Palermo, Cagliari, Bologna…
He collaborated with the conductors such as C. Abbad, R. Mutti, C. Klaiber, S. Ozawa, N. Giullini, L. Mazel, Z. Mehta…He performed with some famous singers – A. Bocelli, P. Domingo, M. Freni, J. Sutherland, M. Caballé, K. Ricciarelli, L. Nucci, N. Gjaurov… He usually performs in Italy. He has performed more than 160 different roles during his career.
He is the winner of many prestigious awards among which "Order of Danica Hrvatska with the Effigy of Marko Marulić" (a medal given by the Republic of Croatia) stands out. He teaches singing at the Academy of Music in Zagreb. In 2014, the Ministry of Culture of the Republic of Croatia has proclaimed him a national principal opera soloist. Since 2015, he has been a member of the opera ensemble in the Croatian National Theatre "Ivan pl. Zajc" in Rijeka.
Sanja Erceg Vrekalo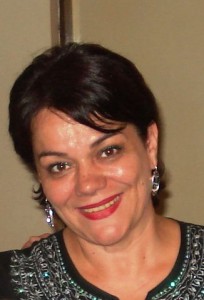 Sanja Erceg Vrekalo is a singing teacher who received her musical education in elementary school in Sinj and in the High School of Music "Josip Hatze". She has graduated from the Music Academy in Zagreb in 1995. In 1992, she had her debut at the Croatian National Theatre of Split singing in the opera "Adel and Mara" (J. Hatze). She has also performed many roles in the operas like "Rigoletto (G. Verdi), "Carmen" (G. Bizet), "Carmina Burana"(C. Orff), "Gianni Schichi"(G. Puccini), "Orpheus in the Underworld" (J. Offenbach), "Blood wedding' '(M. Krstičević)…
She has appeared as a soloist in many concerts at home and abroad (Italy, Germany, Switzerland, Hungary…). Since 2001, she has been teaching at the Music school of Josip Hatze in Split. She won many regional, state and international music awards participating in competitions for pupils and students of music in the category of singing. In 2007, she received the acknowledgements from the Ministry of Science, Education and Sports and from the Education and Teacher Training Agency for her exquisite work with pupils for the academic year 2006/2007 (7 regional and 5 state awards). She also received an acknowledgement from the Education and Teacher Training Agency for her work with pupils for the academic years 2010/2011 and 2012/2013. She is a jury member of singing category for many international competitions. In 2014 she became a teaching mentor.
Besides teaching, she is also a great humanitarian and a member of the Lions Club "Marul" Split (the initiator for scholarships for the best pupils of Split-Dalmatia County and the organiser of many benefit concerts whose aim is to raise the money for the pupils' scholarships). Since 2009, she has been the president of the committee and the organiser of the International Youth Music Competition Lions "Grand prix" for the region South (Croatia). From 2010 to 2012, she was the president of the Theatre committee of the Croatian National Theatre of Split. Until 2014, she was a member of the Theatre committee of the City Youth Theatre Split. She is a member of the HDGU (the Croatian Society of the Musical Artists) and HGU (Croatian Musicians Union).