Piano
Zuzana Niederdorfer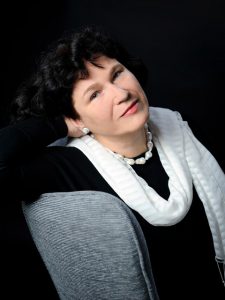 Zuzana Niederdorfer received her master´s degree in piano performance from the Academy of Music and Dramatic Arts in Bratislava.
She was one of the awarded winners at several national and international competitions, including the Robert Schumann competition in Zwickau (DE), Paloma O'Shea in Santander (ES), Virtuosi per musica di pianoforte (CZ), the Fryderyk Chopin competition in Mariánske Lázňe (CZ) and Incontro Internazionale Giovani Pianisti Citta di Senigallia (IT). At the national competitions she was awarded the first prize in solo and chamber music performances (piano trio). During her pianistic career she studied with Viktor Nosov, Ida Černecká (student of V. Gornostaeva) and M. Lapšanský. She was inspired at the masterclasses of professors K. Zemplenyi, L. Berman, V. Gornostaeva and G. Sebök.
In 1993, she earned her doctor's degree from the Academy of Music and Dramatic Arts. She has performed solo recitals and collaborated with numerous orchestras, including the Moscow Symphonic Orchestra, and chamber groups throughout Europe, China, and the United States. She made six CDs and recordings for BBC London and Czechoslovak Radio and Television. She has taught for more than 20 years at the Faculty of Music at the Academy of Music and Dramatic Arts in Bratislava and at the Academy of Arts in Banska Bystrica in Slovakia. Currently, she is a professor at the Kunstuniversität Graz in Austria. Several of her students have been selected and awarded at some of the most prestigious piano competitions.
She has given masterclasses in Slovakia, Czech Republic, Slovenia, Lithuania, Finland, Iceland, the United States, Italy, Poland, China, Germany and Austria. Zuzana Niederdorfer is a jury member at national and international competitions. Twelve years ago, she founded an international festival in Slovakia, which later became known as a national and international piano competition named ,,Forum per tasti".
Ruben Dalibaltayan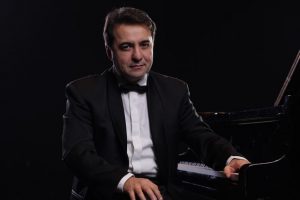 Ruben Dalibaltayan was born in Erevan, Armenia. After finishing the music school in the class of Anahit Shahbazyan, he continued his education at the Gnessin Academy of Music in Moscow, where he studied with Arthur Berngardt. He got his master's degree at the Moscow State (Tchaikovsky) Conservatory in the class od Valery Kastelsky. He was formed under the influence of extraordinary musicians such as Boris Berlin, Lazar Berman and Alexis Weissenberg, who awarded him with his personal international award in 2001.
During his studies and in the period after finishing college, he participated in international piano competitions where he won numerous prizes, and the competitions included China International Music Competition in Beijing (1999), "Aram Khachaturian" in Erevan (2003) and "Svetislav Stančić" in Zagreb (2003). During this period he also performed in the states of the former Soviet Union, Western Europe and Far East.
After graduating in 2000, Ruben Dalibaltayan started his work in education at the Sarajevo Music Academy, and in 2005 he started teaching at the Academy of Music at the University in Zagreb. Over the past few years he performed in over a hundred soloist recitals in Croatia and its neighbouring countries. He had numerous performances with philharmonic orchestras from Erevan, Almati, Kišinjev, Zagreb, Rijeka, Sarajevo, Kosovo, with Zagreb Chamber Orchestra, Varaždin Chamber Orchestra and he successfully cooperated with acknowledged conductors such as Pavle Dešpalj, Vjekoslav Šutej, Toshihiro Yonezu, Vag Papyan, Nathalie Marin and others. He commits a lot of his time and effort to chamber music as well. He has been a part of a piano duet with his wife Julija Gubajdulina since 2000, and in 2009, together with his colleagues Leonid Sorokov and Krešimir Lazar from the Academy, he founded the Amadeus Trio Zagreb, which is now one of the most renowned ensembles in the country.
Ruben Dalibaltayan recorded a majority of the Blagoje Bersa opus through the cooperation with the Croatian Radio, Croatian Music Institute and Cantus, and for this double CD he received the Vladimir Nazor Award in 2016. He also works on the promotion of Armenian composers, the works which combine an interesting and original music connected to the culture of his home country. In 2011 he became the first laureate of the festival dedicated to the Armenian composer Komitas and later he became a part of the project that is dedicated to recording the works of Komitas, Hačaturjan and Babađanjan.
In the last ten years, Dalibaltayan educated a number of young pianists, among which many won different awards in over 50 international competitions. Two of his students received a prestigious Ivo Vuljević award which is awarded by the Croatian Musical Youth (HGM) and the Zagreb Philharmonic Award for the Best Young Musician of the Year: Aljoša Jurinić (2010 and 2012) and Ivan Krpan (2015 and 2016). In September 2017 Ivan Krpan became the winner of one of the most prestigious piano competitions in the world – the Ferruccio Busoni Competition.
Ruben Dalibaltayan organizes master classes and seminars in Croatia and abroad and is often a member of the jury panel at international music competitions. Together with his wife Julija Gubajdulina, in 2005 he founded the Makarska Summer School for pianists which has soon become one of the most recognized events for young pianists in Croatia and neighbouring countries.
In 2018 he bacame a visiting professor at the Music Academy in Liechtenstein and the Talent Music Master Courses at the Music Academy in Brescia.
Sergio De Simone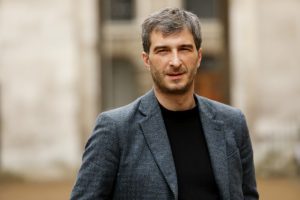 Sergio De Simone was born in Florence (Italy). He studied piano with Giuseppe Tanzini and chamber music with Franco Rossi, cellist of the famous Quartetto Italiano. In 1995 he graduated from the Arrigo Boito Conservatory of Music of Parma with the highest marks and an honorable mention. He attended master classes with Murray Perahia, Aldo Ciccolini, Philippe Cassard, Bruno Canino, Christopher Elton, Alessandro Specchi and Pier Narciso Masi. Sergio De Simone was a part of the Joaquin Achucarro's Summer Festival in the Chigiana Academy in Siena (in 1995, '96 and '98) where he was awarded the Diploma di Merito, the Guido Agosti, the SIAE and the E. Contestabile scholarships. In January 1996 De Simone began studying with Joaquin Achucarro at Southern Methodist University (Dallas, TX) as an Artist Diploma student, recipient of the Joel Estes Tate Scholarship. In 1996-97 he won the Don Nobles Award for accompanying and in 1998 the Von Mickwitz Prize for piano and the soloist competition.
Today, he is the head of Keyboard Studies at Trinity Laban Conservatoire of Music and Dance in London (UK) and a guest professor at KUG (University for Music and Performing Arts, Graz, Austria).
Active solo and chamber pianist, he performs for prestigious music societies in Italy, Spain, France, United Kingdom, Austria, Slovenia, Croatia, Hungary, USA, Argentina, Brazil, Chile (La Società dei Concerti in Milan, Amici della Musica in Florence, Mozarteum in Salzburg, Pisa Theater, Metastasio Theater of Prato, Amici del Teatro Comunale of Florence, Amici del Conservatorio of Parma, Harris Auditorium in Memphis, International Music Festival in Torroella de Montgrì-Barcelona, Accademia Musicale Chigiana di Siena – Settimana Musicale Senese, Associazione "A.Scarlatti" in Napoli, Sagra Musicale Umbra, Mills College Hall in Oakland, Chigiana Academy in Siena, "Valli" Theatre in Reggio Emilia, "Bellini" Theatre in Catania etc.). As a soloist he performed with the Romanian State Orchestra, the Orchestra di Padova e del Veneto, the Meadows Symphony Orchestra, Camerata Strumentale-Città di Prato, Orchestra Sinfonica Siciliana, Sarajevo Philarmonic Orchestra, and the "Solisti di Città Lirica Orchestra" of Pisa etc. His repertoire includes Piano Concertos by Bach, Mozart, Beethoven, Schumann, Brahms, Ravel, Grieg, Shostakovic, Chopin and others.
Sergio is a very active pedagogue: he taught Piano at Gesualdo da Venosa Conservatoire in Potenza, Mascagni Conservatoire in Livorno (Italy) and from 2013 he has been teaching at Trinity Laban Conservatoire of Music and Dance in London. He is regularly invited to give master classes in Italy, UK, Austria, USA, Croatia, Bosnia and Herzegovina, Austria, India, Singapore etc. for major musical universities. Many of his students win prizes in international competitions.
Recently he has started working as an editor for the Bärenreiter Rachmaninoff Critical Edition.
Guitar
Antonio Rumenović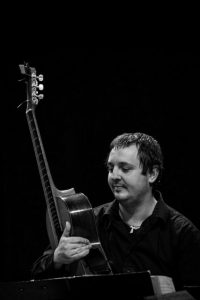 Antonio Rumenović was born in 1983 in Varaždin where he finished primary and secondary music school in the class of professor Moreno Vinceković. In 2001 he enrolled into Ino Marković Academy in Lovran and graduated at the Academy of Music in Zagreb in 2005, in the class of professor Istvan Romero. He started the Hogeschool vor Musik at the Conservatorium Maastricht (Netherlands) in 2006 to get his M. A. degree and the postgraduate degree. He graduated in 2008 in the class of professor Carlo Marchione.
As a soloist and as a member of the chamber ensamble he performed in Croatia and abroad (Netherlands, Italy, Austria, Hungary, Serbia, Slovenia, Macedonia). He has been a member of "Laurum" ensamble since 2011. With them, he has made a record with the same name which introduces compositions written by the members of the ensamble.
Antonio Rumenović started working as a teacher in Ivo Tijardovic Music School in Delnice while he was a student, and after he graduated in 2005 he got a job in Fortunat Pintarić Art School in Koprivnica where he worked until 2019. He and his students have had a lot of success in national and international competitions and he has received the award for the best teacher of the year in the city of Koprivnica numerous times. Education and Teacher Training Agency recognized his great work as well and he has received their award twice during his teaching career.
From 2011 to 2018 he was the lead lecturer in the Summer Guitar School in Koprivnica, and he is one of the lecturers at the Wnter Guitar School in Solin. For the last eight years he has appeared as a member of the judicial panel in different guitar competitions (Zagreb Guitar Festival, Festival Internacional de Gutarra Guimaraes, Omiš Guitar Fest, Enrico Mercatali Gorizia, Tremolo Skopje, Sarajevo International Guitar Festival, Guitar Art Belgrade, Porečki (Parentium) Tirando, Pula Guitar Fest, Sonus Križevci and others).
He is a member of the Croatian Association of Guitar Pedagogues, Croatian Musicians Union and the Musicorum Music Centre. He was one of the founders and co-president of the Allegro Clasical Guitarists'Association from Koprivnica (2010-2019). He often holds master classes in Croatia and abroad and is a regular lecturer at the profesional development courses organized by the Education and Teacher Training Agency. He is currently working in Varaždin School of Music and Bonar School of Music in Zagreb.
He has been the coordinator of the EuroStrings – European Guitar Festival Collaborative since 2017, a project under the patronage of the European Union which includes guitar festivals in 17 member states, and the coordinator of Zagreb Guitar Fest since 2016.
Aysegül Koca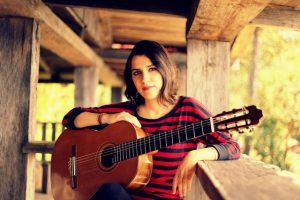 Aysegül Koca was born in Ankara, Turkey. She started to play the guitar at the age of 8. At just 12, she was admitted to Bilkent University Music Preparatory School, Department of Classical Guitar, the most prestigious conservatory in Turkey, and studied with Kürsad Terci and Kagan Korad. In a short period of time, she made a huge progress in her technique and performance, held many concerts and soon achieved successes at numerous guitar competitions such as José Tomas Guitar Competition in Almería, Spain (2007, First Prize), Eduard Pamfil Young Guitarists Competition in Romania (2005, First Prize and Special Jury Award), National Mavi Marti Guitar Competition in Istanbul, Turkey (206, First Prize), Enrico Mercatali Guitar Competition in Italy (2009, Second Prize and Special Public Award).
She was only 19 when she got her Bachelor's Degree which she obtained from the Conservatorium Maastricht in the Netherlands, under the supervision of Carlo Marchione. Afterwards, she was accepted to the class of renowned guitarist Aniello Desiderio at Koblenz Guitar Academy in Germany where she received her postgraduate degree. Finally, she graduated with a Master's Degree at Kunstuniversität Graz in Austria where she studied with Paolo Pegoraro.
As one of the most promising Turkish guitarists of the modern generation, she took part in various events and concert series in Turkey and abroad (Mexico, Italy, Montenegro, Spain, Greece, Austria, Cyprus, Kosovo and the USA).
As a soloist, Ms. Koca has also been invited to perform with Staatsorchester Rheinische Philharmonie directed by Francesco Angela in 2010 in Germany, Antalya State Symphony Orchestra directed by Antonio Pirolli in 2012 in Turkey, Xalapa Guitar Orchestra directed by Alfonso Moreno in 2016 in Mexico. Later on she performed Concierto del Sur with them in Teatro Macedonio Alcala which is one of the most important and historical halls in Mexico. The following year she premiered in a Concierto Madrigal by Joaquin Rodrigo in Turkey, with Bursa Region State Symphony Orchestra conducted by Gints Glinka. In 2018, Ms. Koca released a live album, a collaboration with Orchestra Academic Baskent and conducted by Ertug Korkmaz. In 2019, she performed Concerto in D major RV 93 with Presidential Symphony Orchestra.
In 2016, she was invited by the Benito Juárez Autonomous University of Oaxaca in Mexico to work as a visiting professor at the department of classical guitar.
Aysegul Koca is invited regularly to various national and international festivals, to play, to lead masterclasses and to be a jury member at different competitions. She works as a guitar instructor at Ankara Music and Fine Arts University in Turkey.
Marko Feri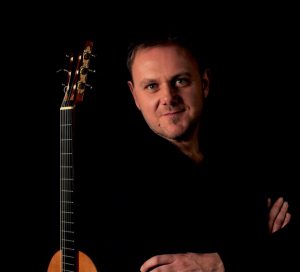 Marko Feri received his diploma in guitar at the Giuseppe Tartini Conservatory in Trieste (Italy) in 1990 and then attended masterclasses with David Russell, Manuel Barrueco and Alberto Ponce. He plays regularly in important music festivals in Europe (Italy, Slovenia, Croatia, Spain, Germany, France, Romania, Bosnia and Herzegovina, Serbia, Montenegro, Kosovo, Albania, Austria, Belgium, Switzerland, Hungary), USA (Guitar Foundation of America 2006 – Columbus, Georgia, GFA 2012 – Charleston, South Carolina, and other festivals in New York State, Texas, Ohio, Virginia, North Carolina, Tennessee), Canada (Toronto Guitar Society Series 2011, 2012), Mexico, Australia and Japan, both as a soloist and with chamber music ensembles.
He has recorded several CDs: Barok (2017), Vivo (2014) and Nocturnal (2004) as a soloist; Views with the flutist Alenka Zupan; Notes Vagabondes – Live and Modulante with the Gorni Kramer Quartet; Strolic with Natissa choir (music by Sivilotti); Castelli friulani with the flutist Nicola Mazzanti (music by G.Tortora); 20th Century Original Works For Flute And Guitar with Ettore Michelazzi; Viva Sevilla with the Italian Guitar Consort, Astor Piazzolla-Orchestral Works with the Concordia Chamber Orchestra; Evasion (music by Piazzolla and Bolling) with Evasion Group.
He has been teaching the guitar at the Glasbena Matica "Marij Kogoj" in Trieste (Italy) from 1991, is a professor at the Instrumental Studies Department at the Academy of Arts in Osijek (Croatia) and organizes masterclasses in Europe, USA, Canada and Mexico. He is also the founder of the International Guitar Festival "Kras" (Italy/Slovenia).
Voice
Evelyn Schoerkhuber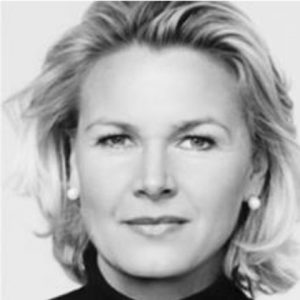 Evelyn Schoerkhuber was born in Steyr, Austria and received her earliest musical training in Weyer and Waidhofen/Ybbs, where she learned piano, guitar und violoncello at the music school. She started her voice lessons at the age of 12 and made her very first stage appearance as a 15 year-old high school student, singing the whole roles of Papagena in Mozart's Magic Flute, Susanna in Mozart's Marriage of Figaro and Hänsel in Engelbert Humperdinck's Hänsel and Gretel.
While still at the conservatory Johannesgasse in Vienna, Evelyn performed a number of different roles in studio productions, including the roles in the works of W. A. Mozart, Johann Strauß, Gilbert and Sullivan and others. During this period, she also performed and toured extensively with the Wiener Kammeroper (Vienna Chamber Opera) and the Seefestspielen Mörbisch throughout Europe, China and Japan. From 2000 to 2003, Evelyn had a young artist's contract with the Vienna Burgtheater, where she appeared in both singing and speaking roles and worked with the best German-language-theatre actors and stage directors.
After completing her singing studies, Evelyn performed with the NÖ Tonkünstler at the Reinsberg Opera Festival, at the Vienna Jugendstil Theater and on tour through Japan. Extensive concert performances with the Baroque ensemble "Trinito", the "Lichtspiel" duo, and the renowned "Vienna String Quartet" (musicians from the Vienna Philharmonic Orchestra) also led her to Spain, Japan, Iceland, Israel and Italy.
In 2009 Evelyn debuted at the Young Artist`s Program of Teatro Real in Madrid as Alice Ford in Falstaff by Giuseppe Verdi, where she also won a scholarship from the Spanish Ministry of Culture to complete a program in stage performance at the Universidad Alcala. There, Evelyn had the opportunity to work with Hugo de Ana, Jorge Rubio and Patricia Barton, among others.
In 2011 she appeared once again as "Alice Ford" in G. Verdi's "Falstaff" at the Auditorio de Tenerife and in numerous concerts featuring a Claudio Monteverdi program, which she performed in a number of Spanish cities, including Siguenza, Salamanca, Toledo and Valencia. In the spring of 2012, Evelyn Schoerkhuber appeared as a soloist with the Ensemble Mosaik, performing a program of virtuous arias by Georg Friedrich Händel.
In June 2012 she was a third place winner at the Tournoi International de Musique in Paris. In 2013, with the pianist Volker Nemmer, she founded the chamber music project Lied im Brick.
Since September 2013 Evelyn Schörkhuber has been teaching at the vocal faculty at the Richard Wagner Conservatory, Vienna and is giving masterclasses in cooperation with agencies from all over the world (China, USA, Europe). Many of her students are prize winners and finalists of important competitions, like Grandi Voci, Belvedere, Magda Oliveri, St Petersburg competition and others. In 2016 she started a SPA –a Stylistic Phrasing Expression program through music history, together with Daniel Sarge, intended for young singers at the Junge Schubertiade Vienna. Daniel Sarge has been her partner in The Strong Five audition training since 2016 as well. Since 2018 she has been the event director for the Vocal Arts at Academia Musica in Vienna, and is also a member of the Vocal Arts Faculty of the Vienna Summer Music Festival (2017-present) and a member of the Austrian-Chinese Education Program ACPAF. She has masterclasses at Barry University and South Florida Conservatory of Music. She is also a member of the Music without Borders program which works with children from underprivileged backgrounds (together with Marialena Fernandes). She has been an active member of EVTA (European Voice Teacher Association) since 2014. She has worked with numerous conductors and stage directors and her repertoire extends from the works of Haydn to Schubert and Schumann, van Beethoven and includes Brahms, Richard Strauss, Gustav and Alma Mahler, as well as Berg, Marx, Bernstein, Stravinsky and others.
Tatjana Vasle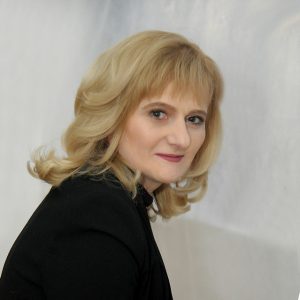 Tajana Vasle got a degree in solo singing at the Music academy in Ljubljana, after getting a degree in mathematics. Her singing professor was Irena Baar.
As a soloist, she has performed with the Symphony Orchestra of the Ljubljana Music Academy, the Slovenian Philharmonic Chamber Orchestra, Domžale Symphony Orchestra and the Capella Civica di Trieste Orchestra. She has appeared in numerous vocal and instrumental works and chamber music works as well as a soloist concerts in Slovenia, Italy, Croatia and Austria. She has recorded for the RTV Slovenia music archive and performed as a soloist with the RTV Slovenia Symphony Orchestra and has participated in projects with the RTV Slovenia Chamber Orchestra.
She works as a singing professor at the Ljubljana Music and Ballet Conservatory, where she is the head of the singing department, and she also works with the Music Academy in Ljubljana as an advisor for the vocal technique.
Her students win numerous prizes at the national TEMSIG competition, and at the international competitions Lazar Jovanović in Belgrade, Bruna Šiler in Herceg Novi, Daleki akordi (Distant chords) in Split, the International Music Festival in Aranđelovac, the International Music Competition Giovani Musicisti – Città di Treviso in Italy and the International Vocal Competition Iuventus Canti in Slovakia. A lot of her students continue their musical education at the foreign music academies in Haag, Vienna, Berlin, Graz, Zagreb and Ljubljana.
Tatjana Vasle often holds singing seminars in Slovenia, and as a professional adviser for vocal technique, she cooperates with the best Slovenian choirs; Carmina Slovenica, Chamber Choir AVE, Academic Choir Tone Tomšić and others. She also participates in the international singing and other music competitions as a member of the panel of judges. She is an active member of DSPP (Slovenian Association of Teachers of Singing) as well as EVTA (European Voice Teachers Association). In 2018 she received the Škerjančev Award, the highest pedagogical acknowledgement awarded by the Ljubljana Music and Ballet Conservatory.
Nikola Kitanovski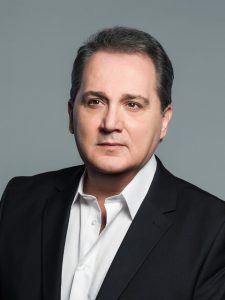 Nikola Kitanovski was born in Skopje, Macedonia, where he studied the piano in primary and secondary school. He graduated in 1991 and got his master's degree in 2008 at the Faculty of Music Arts in Belgrade, at the Department of Solo Singing and in the class of Biserka Cvejić.
He started his career in 1987, and since then he has cooperated with the Belgrade Philharmonic, Macedonian Philharmonic, The RTS Symphony Orchestra and has performed in numerous cities in Croatia, Serbia, Slovenia, Bosnia and Herzegovina and Macedonia. He has also performed at numerous festivals among which May Opera Nights in Skopje, Dubrovnik Summer Festival, Ohrid Summer Festival, BEMUS, Niš Music Festival, NOMUS and Sarajevo Winter Festival stand out.
After he received the first prize at the international competition for solo singers "Katia Ricciarelli" in 1991 in Mantua, he continued his education at the Academia Lirica Mantovana in Italy. He worked with a lot of big names such as Katia Ricciareli, Gianni Raimondi and directors Franco Zefirelli and Antonio Calenda. The prima donna Katia Ricciarelli was his singing partner. He sang his first opera roles at the the Opera of the National Theatre in Belgrade in 1990 and 1991, and he played the roles in Lucia di Lamermoor, Madame Butterfly and Eugene Onegin. During his cooperation with The National Theatre in Belgrade, he has appeared in 250 performances. He was also entrusted with the task of leading the Opera Studio at the National Theater Opera in Belgrade (2007-2009).
His internatioal cereer started in 2012 when he bacame a member, a soloist, of the Badishe Staats Theater in Karlsruhe, Germany. Since then, he has performed in over 35 opera houses all over the world and has played 20 leading roles which include Lenski (P. I. Čajkovski, Eugene Onegin), Rodolfo (G. Puccini, La Boheme), Don Carlos (G. Verdi, Don Carlos), Don Jose (G. Bizzet, Carmen), Ivo (J. Hatze, The return), Mićo (J. Gotovac, Ero, the Joker from the Other World), Edgardo (G. Donizetti, Lucia di Lamermoor), Pinkerton (G. Puccini, Madame Butterfly), Radamès (G. Verdi, Aida) and others.
In 2004 Nikola Kitanovski started his work in the field of education and today he is a professor and the head of the Department of Solo singing at the Faculty of Music in Belgrade. His students are the winners of numerous competition awards and have obtained professional engagements all over the world.