Piano
Philippe Raskin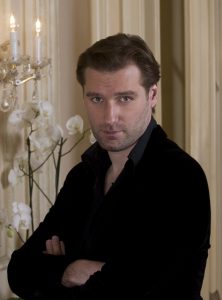 Born in Brussels, Philippe Raskin devoted himself to music at a very early age.
Philippe began piano lessons with Aleksandr Friedland, a Russian conductor, and continued working with Bernadette Malter and Loredana Clini. He developed his artistry furthermore with Emanuel Krasovsky, Vincenzo Balzani, Ralf Gothóni, and Leon Fleisher on the piano in addition with Johannes Meissl and Hatto Beyerle for chamber music.
At the age of 16, he began studying at the Royal Conservatorium of Brussels in the class of Jean-Claude Vanden Eynden. In the same year, he obtained his first degree with the highest honors. He then joined the Queen Elisabeth Music Chapel (still with Jean-Claude Vanden Eynden) and graduated again with the highest honors, receiving the diploma from H.M. the Queen of Belgium. During the same period, he completed his master's degree at the Royal Conservatorium of Brussels in piano and chamber music.
In 2005 he entered the Escuela Superior de Música Reina Sofia in Madrid where he worked for four years under the tutelage of Dimitri Bashkirov and Claudio Martínez Mehner. As early as the first year, he received from H. M. the Queen of Spain the Sobresaliente Prize at the Pardo Palace. In 2010, Philippe started studying at the Strasbourg Conservatory with Amy Lin for a "Diplome de Spécialisation" where he graduated with the highest honors. In 2012 and 2013 he worked with Leonel Morales.
Philippe has won several national and international competitions, amongst others: the J. S. Bach Competition, the Gretry Rotary Competition, the Paris International Piano Competition, the Lions Club Competition, and the André Dumortier International Piano Competition.
In 2012, he became a prizewinner at the Lyon International Piano Competition and won first prize at the Spanish Composers International Piano Competition in Madrid.
Philippe has performed many recitals, as part of chamber groups and as a soloist with orchestras all over the world – in renowned concert halls such as the Grand Hall of Tchaikovsky Conservatory in Moscow, the Shanghai Conservatory of Music, Musikverein in Vienna, or at the Philharmonie in Berlin. He was also invited by the Chopin Foundation in Warsaw to perform in the birthplace of the composer.
Philippe regularly performs with orchestras, notably the Belgian National Orchestra, the Flanders Symphony Orchestra, and the Salzburg Chamber Soloists amongst many others.
His chamber music partners include artists such as Clemens Hagen, Jérôme Pernoo, Miguel Da Silva, etc. Philippe also regularly performs contemporary music and has taken part in several world premieres.
Many composers have dedicated works to him, including Stringent & Tremulation by the Belgian composer Jean-Marie Rens, Piano Sonata by the Turkish composer Serkan Gürkan and Sonata Der Hunt by the Austrian composer Christoph Ehrenfellner.
Philippe is invited each year to be a member of the jury in several international piano competitions including the International Piano Talents Competition in Milan, the Lyon International Piano Competition and is the artistic director of the César Franck International Piano Competition and the International Music Festival (IMF) in Paris. He is also a regular member of the jury at the MozArte Competition in Cologne, the Spanish Composers Competition in Madrid as well as the Chopin Competition in the United States, the Cita de Cantu Competition etc.
In 2009, Philippe opened his own piano school and also gives many masterclasses in Belgium and abroad. From 2016 Philippe is also the artistic director of the Resonances Musique de Chambre Festival in France and he began teaching at the Royal Conservatory of Brussels. Philippe is also a member of the international piano faculty in Brescia and the member of staff at the International Academy of Music and Performing Arts in Vienna.
Massimiliano Mainolfi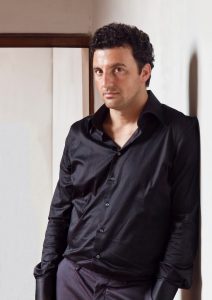 Born in Italy, Massimiliano Mainolfi was very early brought to public attention as a 1st prize winner of several national and international piano competitions. In 1992 he moved to United States where he was admitted to the graduate program of the Juilliard School. In New York he studied with the internationally acclaimed Russian pianist Oxana Yablonskaya and worked on the chamber music repertoire with the legendary Austrian violinist Felix Galimir. He graduated from the Juilliard School in 1996 and a few months later he made his New York Recital Debut at the Carnegie Recital Hall as winner of the "Young Concert Artists International Auditions".
After his graduation he moved to London where he has worked for several years with one of the greatest pupils of Arthur Schnabel, Maria Curcio.
From 1996 to 2000 Mr. Mainolfi attended Masterclasses with several great pianist such as Alexander Lonquich at the Florence Academy, Ferenc Rados, Andràs Schiff at the International Musicians Seminars in Cornwall, England and Piernarciso Masi at the prestigious "Accademia Pianistica" in Imola.
As a soloist, recitalist and chamber musician Mr. Mainolfi has performed throughout Germany, Italy, France, Switzerland, England, Holland, Sweden, Norway, Belgium, Denmark, South Africa and the United States. He was invited to perform at the Montreux Festival, the Festival "da Bach a Bartok" in Imola, the Festival de Lascours in France, the "Young European Soloists" in Brussels, the IMS in Cornwall and the Davos Festival in Switzerland.
Mr. Mainolfi appeared as a soloist with several orchestras throughout Europe and his recent performances include recitals in the most important venues in Geneva (Salle Ansermet), Bern (Radio Auditorium), Munich (Residenz), Stuttgart (Wilhelma Theater) and Berlin (Philharmonie).
Mr. Mainolfi is a devoted chamber musician. In April 2003 he made his Berlin Philharmonie debut in a duo with the cellist Mattia Zappa which was broadcasted live in several European countries. With his Duo he was the prize winner at the "Vittorio Gui International Competition" in Firenze, the "G.B. Viotti International Competition" in Vercelli and the "Trio di Trieste International Competition".
He records for the label Ducale, Lyra Classica, Claves Records and for Deutschland Radio, DRS, RAI 3 and Radio Espace 2. He is regularly invited to join the jury of national and international music competitions.
He is the Director of the International Academy of Music and the Summit Music Festival.
He is currently working as a professor at the Trento Conservatory – University of Music in Italy and at the Hochschule für Musik in Nürnberg, Germany. Massimiliano Mainolfi is a Decca Artist from 2019.
Najda Čapalija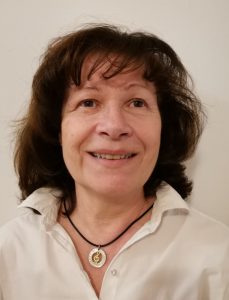 Najda Čapalija was born in Split, where she still lives today. She started to study and play the piano when she was seven years old in Josip Hatze Music School in Split. Her first piano teacher was professor Nenad Kekez. She graduated from Josip Hatze Music School and Classical Gymnasium Natko Nodilo in 1975. In 1980. she graduated from the Academy of Music in Zagreb in the class of professor Vladimir Krpan. In the same year she started working as a piano teacher in Josip Hatze Music School, where she works to this day. She dedicated herself to her students who have won numerous prizes in national and international competitions. As a part of her career, she obtained the mentor title in 2009, and the advisor title in 2018. From 2010 to 2014 she worked as an external associate at the Art Academy in Split. She participates regularly in different seminars held by prominent musicians as a part of her own professional development.
Guitar
Ayşegül Koca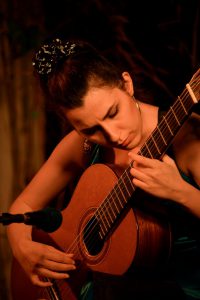 Aysegül Koca was born in Ankara, Turkey. She started to play the guitar at the age of 8. At just 12, she was admitted to Bilkent University Music Preparatory School, Department of Classical Guitar, the most prestigious conservatory in Turkey, and studied with Kürsad Terci and Kagan Korad. In a short period of time, she made a huge progress in her technique and performance, held many concerts and soon achieved successes at numerous guitar competitions such as José Tomas Guitar Competition in Almería, Spain (2007, First Prize), Eduard Pamfil Young Guitarists Competition in Romania (2005, First Prize and Special Jury Award), National Mavi Marti Guitar Competition in Istanbul, Turkey (2006, First Prize), Enrico Mercatali Guitar Competition in Italy (2009, Second Prize and Special Public Award).
She was only 19 when she got her Bachelor's Degree which she obtained from the Conservatorium Maastricht in the Netherlands, under the supervision of Carlo Marchione. Afterwards, she was accepted to the class of renowned guitarist Aniello Desiderio at Koblenz Guitar Academy in Germany where she received her postgraduate degree. Finally, she graduated with a Master's Degree at Kunstuniversität Graz in Austria where she studied with Paolo Pegoraro. She holds a PhD degree from the Mimar Sinan Fine Arts University in Turkey.
As one of the most promising Turkish guitarists of the modern generation, she took part in various events and concert series in Turkey and abroad (Mexico, Italy, Montenegro, Spain, Greece, Austria, Cyprus, Kosovo, Norway, Iran and the USA).
As a soloist, Ms. Koca has also been invited to perform with Staatsorchester Rheinische Philharmonie directed by Francesco Angela in 2010 in Germany, Antalya State Symphony Orchestra directed by Antonio Pirolli in 2012 in Turkey, Xalapa Guitar Orchestra directed by Alfonso Moreno in 2016 in Mexico. Later on she performed Concierto del Sur with them in Teatro Macedonio Alcala which is one of the most important and historical halls in Mexico. The following year she premiered in a Concierto Madrigal by Joaquin Rodrigo in Turkey, with Bursa Region State Symphony Orchestra conducted by Gints Glinka. In 2018, Ms. Koca released a live album, a collaboration with Orchestra Academic Baskent and conducted by Ertug Korkmaz. In 2019, she performed Concerto in D major RV 93 with Presidential Symphony Orchestra.
In 2016, she was invited by the Benito Juárez Autonomous University of Oaxaca in Mexico to work as a visiting professor at the department of classical guitar.
Aysegul Koca is invited regularly to various national and international festivals, to play, to lead masterclasses and to be a jury member at different competitions. She works as a guitar instructor at Ankara Music and Fine Arts University in Turkey.
Mislav Režić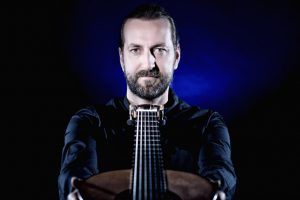 Croatian guitar player Mislav Režić was born in Split in 1978 where he has finished Josip Hatze Music School and Prva jezična gimnazija (First Language Gymnasium). In 2001 he graduated from Arts Academy in Split in the class of Goran Listeš as the best student in his class. He enrolled in Royal Conservatory in Den Haag in the same year and he graduated two years later in the class of Zoran Dukić. In 2005 he finished his second postgraduate studies at the Maastricht Academy of Music in the class of Carlo Marchione.
He is the winner of numerous national and two international awards at the international guitar festivals in Zwolle (2002) and Enschede (2007). In 2002 Croatian Society of Musical Artists (HDGU) recognized him as one of the most talented young artists and presented him with their award.
Mislav Režić leads an active international career as a soloist, a chamber orchestra member and a lecturer. His interest in different styles has led him to cooperation with a large number of artists and ensembles. He is one of the founders of the Machetes (Netherlands) ensemble as well as the Tettix (Greece) ensemble who perform modern compositions. He performs with orchestras in numerous European countries and composers Vlado Sunko, Nikoleta Chatzopoulu, Sofia Avramidou and Michalis Paraskakis dedicated his works to him.
Mislav Režić also works as an educator. He has taught the guitar and held master classes in music institutions in Croatia, Netherlands, Italy, Montenegro and Greece. He has been teaching at the International Music Summer School in Kaštela since 2013.
He is the art director of the Musical Evenings at St. Jerome's in Kaštela.
During the last couple of years he has been composing music for movies and theatre productions.
His soloist album Auburn dedicated to the contemporary music was published in 2017 for the DNA-LABEL.
He performs on the guitar made by the Greek guitarist Antonis Hatzinikolaou and is an exclusive Hannabach artist.
He performs with numerous artist: Pepe Garcia, Diego Espinosa, Cvetanka Sozovska, Tanja Šimić, Jussi Lehtipuu, Georgia Balabini, Antigoni Tsalla, Gregor Schulenburg, Laura Vadjon, Guido de Flaviis and Gordan Tudor.
Marko Feri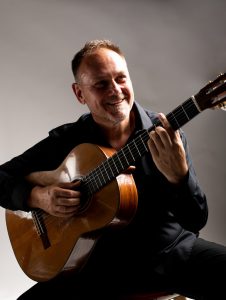 Marko Feri received his diploma in guitar at the Giuseppe Tartini Conservatory in Trieste (Italy) in 1990 and then attended masterclasses with David Russell, Manuel Barrueco and Alberto Ponce. He plays regularly at important music festivals in Europe (Italy, Slovenia, Croatia, Spain, Germany, France, Romania, Bosnia and Herzegovina, Serbia, Montenegro, Kosovo, Albania, Austria, Belgium, Switzerland, Hungary), USA (Guitar Foundation of America 2006 – Columbus, Georgia, GFA 2012 – Charleston, South Carolina, and other festivals in New York State, Texas, Ohio, Virginia, North Carolina, Tennessee), Canada (Toronto Guitar Society Series 2011, 2012), Mexico, Australia and Japan, both as a soloist and with chamber music ensembles.
He has recorded several CDs: Barok (2017), Vivo (2014) and Nocturnal (2004) as a soloist; Views with the flutist Alenka Zupan; Notes Vagabondes – Live and Modulante with the Gorni Kramer Quartet; Strolic with Natissa choir (music by Sivilotti); Castelli friulani with the flutist Nicola Mazzanti (music by G.Tortora); 20th Century Original Works For Flute And Guitar with Ettore Michelazzi; Viva Sevilla with the Italian Guitar Consort, Astor Piazzolla-Orchestral Works with the Concordia Chamber Orchestra; Evasion (music by Piazzolla and Bolling) with Evasion Group and Duo (2020) with the guitarist Janoš Jurinčič.
He has been teaching the guitar at the Glasbena Matica "Marij Kogoj" in Trieste (Italy) from 1991, is a visiting professor at the Instrumental Studies Department at the Academy of Arts in Osijek (Croatia) and he organizes masterclasses in Europe, USA, Canada and Mexico. He is also the founder of the International Guitar Festival "Kras" (Italy/Slovenia).
Voice
Nikola Kitanovski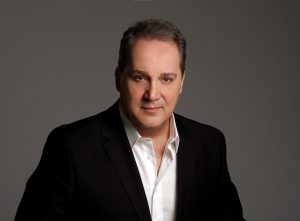 Nikola Kitanovski was born in Skopje, Macedonia, where he studied the piano in primary and secondary school. He graduated in 1991 and got his master's degree in 2008 at the Faculty of Music Arts in Belgrade, at the Department of Solo Singing and in the class of Biserka Cvejić.
He started his career in 1987, and since then he has cooperated with the Belgrade Philharmonic, Macedonian Philharmonic, The RTS Symphony Orchestra and has performed in numerous cities in Croatia, Serbia, Slovenia, Bosnia and Herzegovina and Macedonia. He has also performed at numerous festivals among which May Opera Nights in Skopje, Dubrovnik Summer Festival, Ohrid Summer Festival, BEMUS, Niš Music Festival, NOMUS and Sarajevo Winter Festival stand out. During his longlasting career, he has performed on some of the most famous stages of the world.
After he received the first prize at the international competition for solo singers "Katia Ricciarelli" in 1991 in Mantua, he continued his education at the Academia Lirica Mantovana in Italy. He worked with a lot of big names such as Katia Ricciareli, Gianni Raimondi and directors Franco Zefirelli and Antonio Calenda. The prima donna Katia Ricciarelli was his singing partner. He sang his first opera roles at the the Opera of the National Theatre in Belgrade in 1990 and 1991, and he played the roles in Lucia di Lamermoor, Madame Butterfly and Eugene Onegin. During his cooperation with The National Theatre in Belgrade, he has appeared in 250 performances. He was also entrusted with the task of leading the Opera Studio at the National Theater Opera in Belgrade (2007-2009). He established a longterm cooperation with this institution that lasts for over 30 years and in 1995. he was given their annual award.
His internatioal cereer started in 2012 when he bacame a member, a soloist, of the Badishe Staats Theater in Karlsruhe, Germany. Since then, he has performed in over 35 opera houses all over the world and has played 20 leading roles which include Lenski (P. I. Čajkovski, Eugene Onegin), Rodolfo (G. Puccini, La Boheme), Don Carlos (G. Verdi, Don Carlos), Don Jose (G. Bizzet, Carmen), Ivo (J. Hatze, The return), Mićo (J. Gotovac, Ero, the Joker from the Other World), Edgardo (G. Donizetti, Lucia di Lamermoor), Pinkerton (G. Puccini, Madame Butterfly), Radamès (G. Verdi, Aida) and others.
In 2004 Nikola Kitanovski started his work in the field of education and today he is a professor and the head of the Department of Solo singing at the Faculty of Music in Belgrade. His students are the winners of numerous competition awards and have obtained professional engagements all over the world.
He organized over forty The Road to Bel Canto perojects in different places in Serbia, making it possible for young singers to gain experience in front of the live audience, and also to promote solo singing and the operatic repertoire of national and foreign composers.
Evelyn Schoerkhuber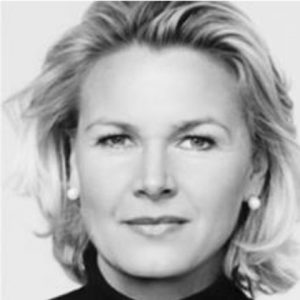 Evelyn Schoerkhuber was born in Steyr, Austria and received her earliest musical training in Weyer and Waidhofen/Ybbs, where she learned piano, guitar und violoncello at the music school. She started her voice lessons at the age of 12 and made her very first stage appearance as a 15 year-old high school student, singing the whole roles of Papagena in Mozart's Magic Flute, Susanna in Mozart's Marriage of Figaro and Hänsel in Engelbert Humperdinck's Hänsel and Gretel.
While still at the conservatory Johannesgasse in Vienna, Evelyn performed a number of different roles in studio productions, including the roles in the works of W. A. Mozart, Johann Strauß, Gilbert and Sullivan and others. During this period, she also performed and toured extensively with the Wiener Kammeroper (Vienna Chamber Opera) and the Seefestspielen Mörbisch throughout Europe, China and Japan. From 2000 to 2003, Evelyn had a young artist's contract with the Vienna Burgtheater, where she appeared in both singing and speaking roles and worked with the best German-language-theatre actors and stage directors.
After completing her singing studies, Evelyn performed with the NÖ Tonkünstler at the Reinsberg Opera Festival, at the Vienna Jugendstil Theater and on tour through Japan. Extensive concert performances with the Baroque ensemble "Trinito", the "Lichtspiel" duo, and the renowned "Vienna String Quartet" (musicians from the Vienna Philharmonic Orchestra) also led her to Spain, Japan, Iceland, Israel and Italy.
In 2009 Evelyn debuted at the Young Artist`s Program of Teatro Real in Madrid as Alice Ford in Falstaff by Giuseppe Verdi, where she also won a scholarship from the Spanish Ministry of Culture to complete a program in stage performance at the Universidad Alcala. There, Evelyn had the opportunity to work with Hugo de Ana, Jorge Rubio and Patricia Barton, among others.
In 2011 she appeared once again as "Alice Ford" in G. Verdi's "Falstaff" at the Auditorio de Tenerife and in numerous concerts featuring a Claudio Monteverdi program, which she performed in a number of Spanish cities, including Siguenza, Salamanca, Toledo and Valencia. In the spring of 2012, Evelyn Schoerkhuber appeared as a soloist with the Ensemble Mosaik, performing a program of virtuous arias by Georg Friedrich Händel.
In June 2012 she was a third place winner at the Tournoi International de Musique in Paris. In 2013, with the pianist Volker Nemmer, she founded the chamber music project Lied im Brick.
Since September 2013 Evelyn Schörkhuber has been teaching at the vocal faculty at the Richard Wagner Conservatory, Vienna and is giving masterclasses in cooperation with agencies from all over the world (China, USA, Europe). Many of her students are prize winners and finalists of important competitions, like Grandi Voci, Belvedere, Magda Oliveri, St Petersburg competition and others. In 2016 she started a SPA –a Stylistic Phrasing Expression program through music history, together with Daniel Sarge, intended for young singers at the Junge Schubertiade Vienna. Daniel Sarge has been her partner in The Strong Five audition training since 2016 as well. Since 2018 she has been the event director for the Vocal Arts at Academia Musica in Vienna, and is also a member of the Vocal Arts Faculty of the Vienna Summer Music Festival (2017-2019) and a member of the Austrian-Chinese Education Program ACPAF. She has masterclasses at Barry University and South Florida Conservatory of Music. She is also a member of the Music without Borders program which works with children from underprivileged backgrounds (together with Marialena Fernandes). She has been an active member of EVTA (European Voice Teacher Association) since 2014. She has worked with numerous conductors and stage directors and her repertoire extends from the works of Haydn to Schubert and Schumann, van Beethoven and includes Brahms, Richard Strauss, Gustav and Alma Mahler, as well as Berg, Marx, Bernstein and Stravinsky.
Jerica Rudolf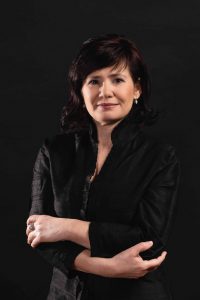 Jerica Rudolf, vocal coach, started her musical education at the Vinko Vodopivac Music School in Ajdovščina, Slovenija, in the class of Rajko Koritnik. She continued her studies in Italy, at the Giuseppe Tartini Conservatory in Trieste in the class of professor Cecilia Fusco. After graduating, she continued to perfect her talent by participating in numerous master classes (Victor Srugo, Eleonora Jankovič, Gloria Paulizza, Anna Maria Dur). She received her master's degree in 2009 in the class od professor Enrico Rinaldo.
During her studies she has performed as a soloist and with chamber ensembles. Together with operatic repertoire and songs accompanied by the piano, she has always showed special interest in the interpretation of compositions written by Slovenian authors. Among others, she has performed the role of Leposava in the operetta by the Slovenian composer Benjamin Ipavec-Tičnik.
She has performed in numerous concerts of sacral music and in Mozart's Requiem when she performed as a soloist in the vocal quartet with the accompaniment of the Slovenian Philharmonic Orchestra.
In 2007. she collaborated on the documentary named Children from Petriček by recording the music of the contemporary author Bojana Šaljić-Podešva. The movie won an award for the best music composed for a movie at the 10th Festival of Slovenian Film in Portorož.
Soon after graduating Jerica Rudolf dedicated herself to the pedagogical work. She teaches singing in the Ajdovščina Music School. Her success is visible in the results of her students who have won numerous national and international awards (Giulio Neri in Italy, Ferruccio Tagliavini in Austria, Bruna Špiler in Montenegro, Lazar Jovanović in Serbia, Distant Chords in Split, Competition for Young Musicians in Slovenia, etc.).
In 2019 she was a member of the jury at the Competition for Young Musicians in Slovenia and the International Competition Lazar Jovanović in Belgrade, Serbia.
Jerica Rudolf has been leading a mixed choir which cooperates with professional music ensembles, The Slovenian Philharmonic Choir and Orchestra and Haydn Orchestra of Bolzano and Trento from Italy. The choir competes with professional ensembles and performs famous and demanding pieces: Jolanta by Tchaikovsky, Mozart's Requiem, Janaček's Glagolitic mass, Stabat Mater by Dvořák, Stravinsky's Symphony of Psalms, Brahms's Eine Deutsches Requiem etc. The choir has participated in the organization of Ljubljana Festival, with The Slovenian Philharmonic Choir and Orchestra and Spanish Fura dels Baus dance group in the production of Karl Orff's Carmina Burana.
Jessica Rudlof is the author of several dramatic plays and musical theater pieces (Young Mozart, Sračje leto, Potpuri operetnih melodij etc.). She directed some of the performances herself and included her students in the productions.
She has received a reward given by the town of Ajdovščina for her engagement in the cultural field. She is the president of the Society of Slovenian Music Pedagogues form 2017 and she advocates the growth and education in the field of singing pedagogy, searches for the cooperation possibilities with institutions with similar interests and encourages artistic creations of music pedagogues and students.