Strings
Violin / Viola
Mariarosaria D'Aprile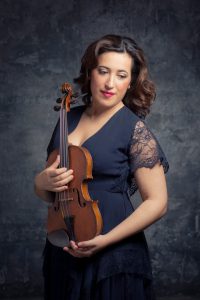 Mariarosaria D'Aprile is a talented violinist, active in the national and international concert scene. After graduating with honours at a very young age at the Conservatory of Music E. R. Duni in Matera under the direction of Alessandro Perpich, she moved to Lugano where she attended the Conservatory of Italian Switzerland (Conservatorio della Svizzera Italiana). She graduated cum laude in Specialization and as a soloist under the direction of Massimo Quarta.
Her remarkable musical skills, versatility and the power of sound have deserved the recognition and the praise of many important composers and conductors. She has performed in important music festivals as a soloist: Festival de Música Española in Cádiz, Noches en los Jardines del Alcázar in Sevilla, Academia dei Cameristi di Bari in Italy, Piceno Festival-Music Weeks on the Island of Elba, Festival of Nations in Citta di Castello, the Festival Pontino in Sermoneta, Accent 08 in the United States, European Youth Festival in Berlin, Charleston Manor Festival in the UK etc. Furthermore, she has performed as a chamber musician with Bruno Giuranna in Turin, with Massimo Quarta in Naples, with Tommaso Cogato and Academy Cameristi in Bari (Montenegro) and with Robert Cohen in London. She has also given performances with famous orchestras such as: the Archi della Vallisa, the Virtuosi of Italian Switzerland, Barenboim-Said Academy Orchestra, and the World Youth Or-chestra.
She won many competitions: as a soloist Cittˆ di Agropoli in 1995, Giovani Promesse in Taranto in 1996, Concorso Perosi in Biella in 1997 and Concorso Internazionale Postacchini in Fermo in 1998.
She has been awarded both the first prize of the competition C. Vittale in Fasano as well as the first prize Premio Vittorio Veneto at the violinist exhibition.
Mariarosaria D'Aprile has worked as a violin professor at the Conservatory of Italian Switzerland in Lugano (Department of Music School) and being a Doctor of Educational Sciences from the University of Seville she currently teaches at the Andalucía Música Music Academy in Seville.
Vildana Repše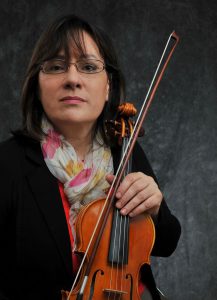 Vildana Repše is an academic musician, violinist and violin teacher, born into a family of recognized musicians, Smailović in Sarajevo. She received her degree at the Academy of Music in Ljubljana, after having studied violin in the class of Professor Dejan Bravničar.
In 1990 together with her husband Vlado Repšo, Vildana founded the first private school of music Tartini Musical Studio in Ljubljana, dedicating herself with exceptional success to teaching music. She is the author of several textbooks and manuals, a lecturer at seminars and international conferences, a researcher of violin playing methodology as well as a mentor to young music teachers.
As a genuine admirer of orchestra music, she has focused her artistic activities on playing in various orchestras like the RTV Ljubljana Symphony Orchestra, the Slovenian Philharmonic, the Tartini Chamber Orchestra, and the Musica Ad Hominem string ensemble. Since 2010 she has assumed the role of concert master in the Camerata Medica string orchestra.
In 2020 she won the Lifetime Achievement Award, considered to be the highest state award in the field of music education.
Yuval Gotlibovich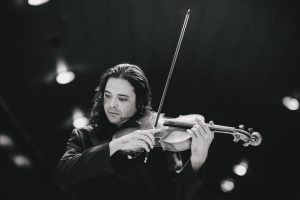 Yuval Gotlibovich, whose artistic activity is varied and interconnected, is a performer, composer, and teacher. As a violist he has won first prize in the Lionel Tertis (UK), Fischoff (USA) and Aviv (Israel) competitions.
His debut album for the NAXOS record label, together with the Catalan Chamber Orchestra featuring the viola music of Ramón Paus, has gained international recognition as it entered the top ten best-selling albums of Naxos worldwide in the first month of its release.
Upcoming Album releases include: Viola Concerto by Anton Garcia Abril, with Real Filharmonia Galicia directed by Paul Daniel and Menachem Wiesenberg Encounters IV and Concertino with the Beethoven Philharmonie, conducted by Thomas Roesner.His arrangement of J. S. Bach Goldberg Variations in various musical styles have been recorded for ´Sony´.
His Sonata for Viola and Piano was premiered at the Tokyo Opera by Nobuko Imai and Izumi Tateno (edited by Da-Vinci Editions) and later played throughout Japan and featured in the International Viola Congress in Rotterdam.
His passion for performance, composition and improvisation have led him to the creation of original music that accompanies silent films, which he presented often in collaboration with his brother, Cellist Jonathan Gotlibovich in various film and music festivals in Europe and Israel.
He has composed the music for the documentary film Pantalla Rasgada directed by Gerardo Gormezano. This coming October he will premiere the music to the film The Passion of Jean d'Arc, in Klassiske Dage, in Holstebro, Denmark.
Gotlibovich is also the artistic director of the International Music Festival Ciudad Monumental de Cáceres.
Yuval Gotlibovich is a viola professor in Switzerland and Spain and has been a professor at Indiana University, Jacobs School of Music, the same school he has graduated from in the class of his teacher and mentor Atar Arad.
Cello/Double bass
Mia Grubišić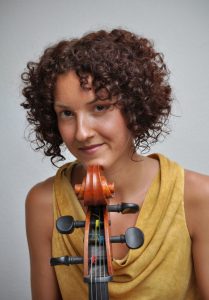 Mia Grubišić was born in Split, where she finished the Secondary Music School Josip Hatze in the class of prof. Vladimir Lukas. In 2004 she enrolled in the Mykola Lysenko Lviv National Music Academy in Ukraine, in the class of prof Yuri Laniuk, and in 2009 she attained the master's degree with honours.
From 2009 to 2012 she assumed the role of the assistant principal cellist at the Opera Orchestra of the Croatian National theatre (HNK) in Split. She performed concerts under the patronage of the Ministry of Culture of the Republic of Croatia and in Croatia and abroad she performed as a soloist with orchestras such as: Lviv Philharmonic Orchestra, International Symphony Orchestra (INSO) in Switzerland, Chamber Orchestra in Zagreb, MAG Ensemble in Split etc.
She also gives regular performances as a baroque cellist, and her wish to give a historically informed performance came true at the E. F. Dall'Abaco Conservatory of Verona (Conservatorio Di Verona E. F. Dall'Abaco) in 2018 when she accomplished her professional development in the class of prof. Catherine Jones. In the same year she passed the audition for the leader of the cello section in the baroque orchestra Orchestra Nazionale dei Conservatori Italiani. In order to promote a historically informed performance she founded Duet Musette together with the cellist Dora Kuzmin Maković and she gave a lot of outstanding performances.
Since 2013 she's been a regular employee at the Music School Pavao Markovac in Zagreb, where she is also the head of the string department and her pupils are winners of high state and international awards.
Gal Faganel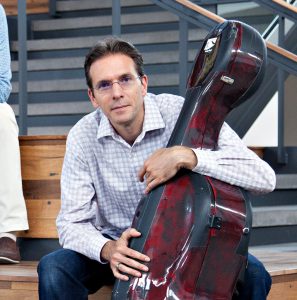 Gal Faganel is a versatile award-winning cello performer, an acclaimed teacher, and a recording artist. He has performed extensively as a soloist and a chamber musician throughout the United States and in Europe as well as in Asia. His performances and recordings have been praised in the press for "exceptionally sensitive interpretation," his "powerful and beautiful tone," and "brilliant virtuosity and youthful vigor." He is a winner of numerous national and international competitions including the International Cello Competition Antonio Janigro in Croatia, the American String Teacher's Association Competition, and The Yamaha Young Performing Artists Competition in the United States. Faganel has been researching, cataloguing, performing, and recording music for cello by Slovenian composers. He has recorded for many labels and radio stations internationally. With a doctorate from the University of Southern California and under the mentorship of Eleonore Schoenfeld, he used to be the principal cellist of the Phoenix Symphony. Since 2010 he has been teaching at the University of Northern Colorado where he has greatly enjoyed mentoring cellists, coaching chamber music, and collaborating with colleagues in the Colorado Piano Trio. He appears as a guest at numerous institutions around the world and most recently he has started teaching at the University of Ljubljana Academy of Music. Apart from being a devoted cello pedagogue, Faganel loves coaching developing musicians, and leads career development courses and workshops.
Zoran Marković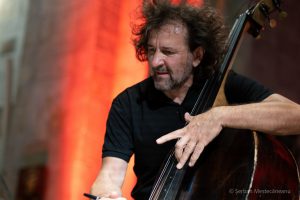 Zoran Marković, a contrabassist, improved himself in the class of renowned pedagogues in Venice, Cremona, München and Salzburg, after having graduated from the Music Academy in Podgorica and having won a master's degree at Faculty of Music of the University of Arts in Belgrade.
During his studies he won numerous awards at various competitions both in his home country as well as abroad.
As a member of the Slovenian Philharmonic Chamber String Orchestra, he received the Prešeren Fund Award in 1999, later on the Župančić Award 2004 and finally in 2006 the Betett Award (of the Slovenian Music Artists Association). Marković's concerts have been held all over Slovenia as well as abroad. As a soloist he has successfully performed with the Slovenian Philharmonic, Belgrade Philharmonic Orchestra, RTV Slovenia Symphony Orchestra, Slovenian Philharmonic Chamber String Orchestra, with the St Đord Stringers, the Celje String Orchestra, the Chamber String Orchestra Amadeus, Junge Bläser Philharmonie Kärtner Orchestra, Symphony Orchestra of Niš, Montenegrin Symphony Orchestra and String Orchestra – Britten etc.
As a regular guest he has performed at many festivals all over Europe like: Aspecte Salzburg, Neuebühne Villach, Serenate nel Chiostro, Trieste Prima, I suoni delle Dolomiti, Akzente-Neue Musik in Klagenfurt, Ljubljana Summer Festival, Oxford Chamber Music Festival, Osnabrücker Musikfestival Classic con brio, The Schloss Elmau, Holstebro 'Klassiske Dage', Storioni Festival, Kumbo Chamber Music Festival, Stavanger, Sylt, Stradun classic Dubrovnik etc. From 1990 to 2004 he worked as a solo contrabassist in the Slovenian Philharmonic Orchestra, and since January 2004 he has been working as a regular teacher at the Academy of Music in Ljubljana. Since 2006 he has been a freelance solo contrabassist at the RTV Slovenia Symphony Orchestra.
He also works as a contrabass teacher at the Conservatory of Music and Ballet in Ljubljana, and teaches at Summer International Music Academies in Austria, Italy, the Netherlands, England, Germany and Finland.
Woodwinds
Flute
Milena Lipovšek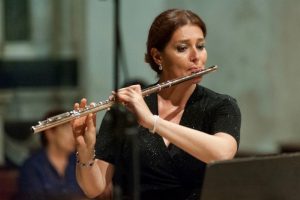 Milena Lipovšek has been a solo flautist in the Symphony Orchestra RTV Slovenia since 1999. In 1998 she graduated with excellent marks from the Music Academy in Ljubljana, where she received her specialized postgraduate degree in 2004 by performing Francaix's Concert for flute and the orchestra. In 2017 she took her doctor's degree from the University in Ljubljana and acquired the professional qualification for the Doctor of Marriage and Family Therapy. Furthermore, she completed her education in Propaedeutic at the Slovenian Institute of Psychotherapy in 2010, and in 2015 she finished her study of Integrative Psychotherapy in Bilbao acquiring the professional title of Integrative Psychotherapist.
Being an orchestra musician she collaborated with orchestras like SNG opera, the Ballet Orchestra SNG in Ljubljana, the Mahler's Chamber Orchestra, the National Philharmonic Orchestra OSESP in Sao Paulo, with the Australian Chamber Orchestra and the Lyon National Opera Orchestra.
As a soloist she has occasionally performed with various orchestras both inland and abroad and made a few solo and chamber recordings for the archive of Radio Slovenia. Both in the chamber ensembles as well as a soloist she has also performed several pieces of domestic and foreign composers and a lot of her recordings have been released on CDs. She has also appeared on the scene of various festivals held in Slovenia, Italy, Austria, Croatian, Belgium, England, Brazil, Montenegro, Bosnia and Herzegovina, Serbia, in the USA and Australia.
She is a teacher at the Conservatory of Music in Ljubljana and she holds regular master-classes both in Slovenia (Podsred, Celje, Štanjel) as well as abroad (Brazil, Germany, Croatia, Montenegro and Serbia).
Her students continue their studies at highly ranked universities in the classes of respectable flute teachers and they achieve enormous success at state and international competitions. Simultaneously with her music career she has been working as a psychotherapist in her private practice for a large number of years.
Jan Ostry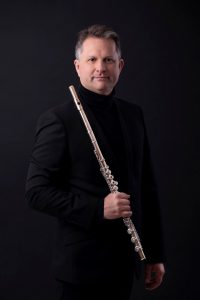 Jan Ostrý was born in Prague, where he studied flute at the Prague State Conservatory in the class of prof. F. Malotín. From 1992 he studied at the Conservatory of Versailles (CNR de Versailles) in the class of prof. Ch. Rayneau and from 1996, he was a grantee of the French Goverment at the Lyon CNSMD, in the class of prof. Ph. Bernold, where he was unanimously awarded the First Prize in 1999. During his studies he held various master classes under the mentorship of B. Kuijken, K. Hunteler, J. Zoon, A. Marion and K. Zoeller.
Both as a soloist as well as a member of chamber ensembles, he has performed at various festivals in several European countries: Styriarte in Graz Haydn Festspiele in Eisenstadt, Prague Spring, for the Dutch Radio in Con-certgebouw Amsterdam, International Flute Festival in Maastricht, St. Wenceslas Music Festival in Ostrava, Festival ORF Eggenberger Schlosskonzerte, Concentus Moraviae (with Prague Philharmonia and J. Bělohlávek), Week of Pierre Boulez in Lyon (with P. Boulez), Czech Haydn Festspiele, Martinů Fest in Wien, Czech Season in France, Festival of Pierre Boulez in St. Etienne, Czech Beethoven's Festival and many others.
He recorded the CD with chamber music of A. Rejch and J. L. Dusik, which was awarded The Critics Prize called Tip Harmonie, chamber music of Bach's sons, complete Bach's sonatas for two flutes as well as Haydn's and Stamic's Trios with H. Schmeiser for Nimbus Records.
Since 2001 he has regularly held master classes at the European Flute Academy in Fiss and since 2003 at the Kulturtage in Neuberg.
He currently works as a teacher at the Musik und Kunst Privatuniversität in Wien, at the State Conservatory in Prague and at Faculty of Fine Arts at the University of Ostrava.
Stefano Parrino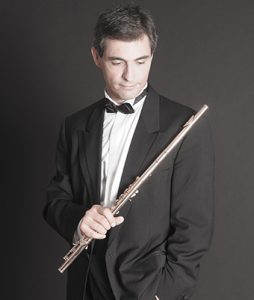 Stefano Parrino was born in Bormio in Italy. He was awarded a diploma with honours at the G. Verdi Conservatory of Milan and continued his studies at the Conservatoire supérieurat Geneva where he studied with Maxence Larrieu and won the prix de virtuosité. At the École national de musique de Paris, Parrino studied with Patrick Gallois and followed the performance and virtuosity diplomas for which he gained the premier prix à l`unanimité and le premier prix avec excellence.
In London, he obtained the postgraduate Diploma of Advanced Studies at the Royal Academy of Music in the class of William Bennett, Sebastian Bell, Kate Hill, and Keith Brag. Then in Biella in Italy, Parrino studied with Peter-Lukas Graf at the Accademia Internazionale L. Perosi where he won the Eccellenza con Menzione Speciale. In 2001 he took the Soloist diploma in the Lugano Conservatoire. He has also played at master classes with Jacques Zoon, Patrick Gallois, Paul Edmund Davies, Michael Cox, Andras Adorjan, Michel Debost, William Bennett, Maxence Larrieu, Susan Milan, Peter-Lukas Graf. He devotes his energies to the concert career, both as a soloist and as a chamber musician. He performed in Europe, Asia, North and South America, always winning great public and critical acclaim. As a soloist, he collaborated with the chamber orchestras Gli Armonici, Bartolomeo Bruni, Bellagio Festival Orchestra, Stesichoros, Symphonia of the Royal Academy of Music in London, as well as with the following symphony orchestras: RSI, Arturo Toscanini, St. Petersburg Philharmonic, Sicilian Symphony, Rossini Symphony, Orchestra of the Catanzaro Province, Sanremo Symphony, also giving live broadcasts for RSI and RAI. As a chamber musician, he is mainly active as a founding member of the Trio Albatros Ensemble. He has also collaborated with eminent musicians such as Stephen Burns, Patrick Gallois, Peter-Lukas Graf, Vladimir Mendelssohn, Susan Milan and Antony Pay. Beside his concert activity, he is engaged in teaching. He has given master classes at prestigious Asian, European and American institutions. Stefano is the only Italian member of the Caballeros del Traverso and acts as a testimonial artist for Altus-Azumi and Bulgheroni wooden flutes.
Saxophone
Claude Delangle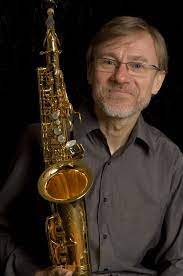 Claude Delangle, soloist, researcher, pedagogue and one of the greatest contemporary saxophonists, stands out as the master of the French saxophone. Privileged interpreter for classic works, he enriches the repertoire and encourages creation by collaborating with the most renowned composers, including Luciano Berio, Pierre Boulez, Toru Takemitsu, Astor Piazzolla, and promoting the youngest.
Since 1986 he has been invited saxophonist in the Ensemble Intercontemporain and he also appears as soloist with the most prestigious orchestras (London BBC, Radio France, Radio of Finland, WDR Köln, Berlin Philharmonic, Kioi Tokyo). Passionate for his instrument, he goes beyond the work of the soloist and frequents the Musical Acoustic Laboratories of the University of Paris. The results of his research on specific acoustics of the saxophone will be for him a precious asset in his collaboration with composers.
After obtaining several outstanding Premiers Prix at the Conservatoire National Supérieur de Musique of Paris, Claude Delangle was appointed professor in 1988, where he has created the most prestigious saxophone class in the world. Pupils of all nationalities long to receive this education, which combines concerts with the possibility of studying with important composers and offers a large range of interdisciplinary activities. In Europe, North America, South America, Australia and Asia, Claude Delangle is requested for interpretation courses.
Levente Puskás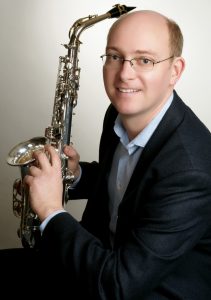 Levente Puskás was born in 1972 in Budapest. He was 7 years old when he started learning to play the piano and 11 years old, when he started playing the clarinet. From 1990 to 1993 he studied clarinet at St. Stephan Conservatoire in Budapest and he was playing the clarinet solo in the St. Stephan Symphony Orchestra from 1990 until 1995. From 1993 until 1998 he studied clarinet at the Liszt Ferenc Academy of Music, Budapest, where his teacher was prof. Tibor Dittrich. He graduated in 1998 as a clarinet and chamber music artist and clarinet teacher.
In 1994 he won the second prize at the Young Artist Competition in Chicago. Then, a year later, in 1995 he established the Budapest Saxophone Quartet together with three fellow musicians. They won six prizes at national and international competitions. In the period between 2002 and 2004 he studied chamber music at the CNSMDP in Paris (Conservatoire National Supérieur de Musique et de Dance de Paris) under the guidance of prof. László Hadady. During the period 2006-2007 he also obtained a degree as a saxophone performer and a teacher at Conservatoire National de Musique et de Dance, Montreuil under the guidance of prof. Jean-Pierre Baraglioli.In addition he participated in several master courses (Michiel Oldenkamp – Netherland, Eugéne Rousseau – USA, Thomas Friedli – Suisse, Oto Vrhovnik – Austria) and he also represented the Hungarian saxophonists with the quartet at the World Congress organized in Montreal (Canada) in 2000, in Minneapolis (USA) in 2003 and in Strasbourg (France) in 2015.
From 2009 to 2014 he studied at the Academy of Music in Banská Bystrica, Slovakia, where he got the DLA degree in June of 2014.
He worked with numerous world famous artists: Zoltán Kocsis, Iván Fischer, Ádám Fischer, Andrea Rost, Péter Eötvös, Tamás Vásáry, Heinz Holliger, Marek Janowski, Leonidas Kavakos, Vadim Gluzman, Aldo Ceccato, Alexander Vedernikov, Yevgenij Kitajenko, György Vukán, Gergely Vajda, Arno Bornkamp, Claude Delangle, Christian Wirth, Nobuya Sugawa, Lars Mlekusch, Hans de Jong, Rodrigo Vila, Nicolas Arsenijevic etc. Since 2000 he was teaching saxophone at the Béni Egressy Conservatoire in Budapest and since 2006 in the Music Faculty of the University of Debrecen.
Gordan Tudor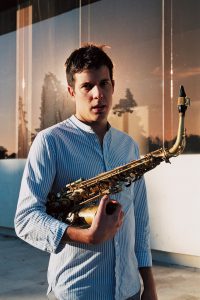 Gordan Tudor is one of the most distinguished musicians of his generation. He is a soloist, composer, chamber musician, improviser and a pedagogue.
After graduating from the Music Academy of the University of Zagreb in the class of the professor Dragan Sremac, he continues his study of saxophone at the Conservatorium van Amsterdam with Arno Bornkamp, where he receives his degree with the highest acknowledgements. As a scholarship holder of Amsterdamse Hoogeschool voor de Kunsten he improves himself at CNSMD in Paris in the class of the professor Claudea Delangle and later of Eugene Rousseau at Mozarteum in Salzburg.
He is the winner of numerous first awards at state and international competitions and of five Porin discography awards.
He has performed in a large number of the world's concert halls (Carnegie Hall in New York, Berlin Philharmonie Hall, The Knoll at the University of Stanford, C4NM in San Francisco, ORF Kulturhaus inVienna, DeSingel Antwerpen, Mumuth Graz etc.), in museums (Scriabin's Museum in Moscow, Fundació Miró in Palma de Mallorca, MASS MOCA in North Adams (USA), Haus der Musik in Vienna etc.) and he has held masterclasses at Gnessin Academy Moscow (RUS), Royal Conservatoire Antwerpen (BEL), University of California Santa Barbara (USA), Conservatori Superior de Música de les Illes Balears (ESP), Conservatorium Maastricht (NLD), MUK Vienna (AUT) etc.
Apart from being an alto saxophone player of the praiseworthy Papandopulo Quartet and soprano saxophone player of Trio GIG Gordan has lately also been performing in the duet with guitar player Miroslav Režić.
At the time he is running an international class of saxophone at the Academy of Arts in Split (UMAS) and he is the artistic leader of the Modern Music Ensamble S/UMAS, which was founded by him at the Academy.
As a reproductive artist he has premiered about fifty compositions of Croatian as well as foreign authors, whereas as a composer he has taken his chance in various genres and instrument combinations, so that his compositions have been performed all over the world.
He spent the summer of 2011 at a residence within Bang on a Can summer festival-at the Massachusetts Museum of Contemporary Art (North Adams, MA).
Gordan is regarded as an exclusive Selmer Paris and D'Addario Woodwinds Artist.
Clarinet
Jože Kotar
Jože Kotar is a clarinettist and pedagogue who lives and works in Ljubljana. He is currently working with the RTV Slovenia Symphony Orchestra. He is both a tenured professor of clarinet at the Academy of Music and a teacher at the Conservatory for Music and Ballet in Ljubljana as well.
He regularly performs as a soloist, chamber musician and a member of various ensembles in Slovenia and throughout Europe, in the United States and South America. He has led master classes for clarinet and chamber music in Croatia, Serbia, Italy, Hungary, Belgium, Israel, Ireland, Canada, the USA, Australia and Brazil. Furthermore, he is frequently a member of juries at international competitions and a regular guest at Slovenian and foreign festivals. He has performed and recorded as a soloist with many orchestras, led by conductors such as M Letonja, G. Pehlivanian, R. Boutry, T. Honna, D. Itkin, B. Fromanger, D. de Villiers and others. He has given the world premieres, both as a soloist and as a member of numerous chamber ensembles, of more than 190 works by many both Slovenian as well as foreign composers. As principal clarinet he performed with many famous conductors, such as C. Kleiber, R. Mutti, S. Baudo, Y. Simonov, H. Haenchen, M. Horvat, P. Kogan, Z. Kocsis, L Hager, En Shao etc. He is a member, co-founder and the artistic director of the Slovenian Clarinet Orchestra and the Slovenian Clarinet Sextet, as well as a member of many other ensembles including the Ariart Woodwind Quintet, with whom he received Betett Award in 2007, and the Woodwind Trio of the Slovenian Philharmonic and the contemporary music ensemble MD7, with whom he received the first Lipovšek Award in 2013. Since 2007 he has been the conductor and the artistic director of the Trbovlje Workers Wind Orchestra. He has recorded numerous compact discs, including eight solo albums as well as many discs with ensembles, including the Ariart Wind Quintet, the ensemble MD7, the Slovenian Clarinet Quartet, the Slovenian Clarinet Sextet etc. He has twice recorded the Rossini Introduzione, tema e variazioni, firstly with the Slovenian Police Orchestra and secondly with the Trbovlje Workers Wind Orchestra in a live concert in the Netherlands.
Jordi Pons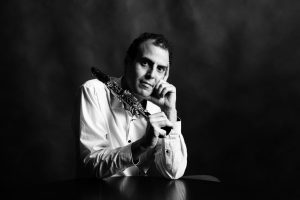 Jordi Pons was born in Barcelona and moved to London in 2000 to study at the Royal Academy of Music. In 2005 he continued his studies with François Benda at the Basel Academy of Music (Musik Akademie der Stadt Basel) in Switzerland. He graduated from the prestigious institution attaining Diplomas of Excellence in both the Concert as well as the International artist courses. Jordi has been the recipient of several prizes and awards including the International Clarinet Competition Città di Carlino (Italy), the Prize Juventuts Musicals de Catalunya (Spain), The Orchestral Clarinet International Competition (Spain), the Premio de Honor for woodwind Solo Playing (Spain), amongst others. He was also honoured to receive the CIRIT Award for Music and Research (Spain) as well as The Guinness-Music in the Community Award and The Mortimer Development Award (UK).
Being very passionate about the orchestral repertoire, he has performed with some of the most prominent orchestras worldwide being led by the baton of names like Sir Colin Davis, Kurt Masur, Peter Eötvös, Charles Dutoit, Bertrand de Villy, Sir Charles Mackerras, Jukka-Pekka Saraste, Robert King, Trevor Pinnock, Josep Pons, Sebastian Weigle. Jordi is very sought-after both as a recitalist and pedagogue, doing masterclasses all over Europe and is currently being a professor at the Swiss conservatories Conservatorio della Svizzera Italiana in Lugano and also at the University of Music in Basel (Hochschule für Musik Basel).
Brass
Christopher Dufay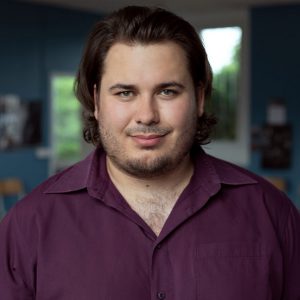 Christopher Dufay, trumpet player from the north of France, passionate about classical and jazz music, is considered to be one of the most versatile and eclectic musicians of his generation. During various events, he shared the stage with various artists and great conductors (Jean-Claude Casadesus, Lucie Legay, Luc Vertommen, Russel Gray, Richard Galiano, Ibrahim Maalouf, Richard Sanderson, etc.) and was also a permanent member of various ensembles (Lille Chamber Orchestra, L'îlot Brass, Normandy Brass Ensemble, Funky Jazz Band, Notes& Bene, etc.)
After obtaining numerous Diplomas including a Master's degree, he was awarded the tittle Professor of Artistic Education in 2019. Immensely passionate about teaching, he is regularly invited to teach at various international events (Bolivia, Belgium, Luxembourg).
Christopher Dufay has also recorded several CDs with Brass Band including: Le Chant de la mine, Eugéne Bozza, dir. Nicolas Bucher, Orchestre Valentiana; Adventure, Sophie Buddelot et le Brass Band NPDC; Rhapsody, Michel Becquet, Qu4tre à 4 et le Brass Band NPDC; Zabawa u Piotra, Pierre Misikowski et son ensemble, and a DVD as well: La Légende Celtique, Brass Bans Nord Pas de Calais.
Looking forward for new adventures, he decided to leave his native region and move to Normandy where he was nominated as a trumpet teacher at the Departmental Conservatory of Grand Couronne and Petit Couronne. Since January 2023 he has also been the Director of the Brass Band en Seine.
Tamás Pálfalvi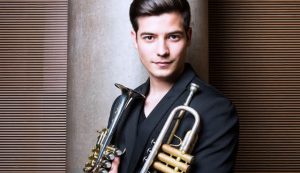 Tamás Pálfalvi stands out as one of the most visionary and innovative trumpet players of today.
Born in Hungary in 1991, Tamás took up trumpet lessons with István Szabó at the age of 8 and joined the Leó Weiner Conservatory of Music in Budapest in 2005, where he studied in the class of Gábor Huszár. In 2009, he was awarded a scholarship for Bard College in New York, where he studied in the class of prof. Carl Albach and Edward Carroll until 2012. He then returned to Budapest to study at Franz Liszt Music Academy in the class of prof. Gábor Boldoczki, where he received his Master's degree in May 2016.
Tamás has received numerous prizes, such as the National Trumpet Competition at the age of 15 as well as the Junior Prima Prize, the most important recognition for young musicians in Hungary. He was the first trumpet player to win the Bard College Concerto Competition. Further distinctions include awards from the Chicago Brass Festival and several competitions across European cities such as Prague, Chieri, Cluj Napoca and Brno. His enormous virtuosity, stage presence and extraordinary musical concept won him first place at the Fanny-Mendelssohn-Förderpreis, a German competition that was created to reward not only the performance of young musicians, but also their conceptual skills and creativity. Additionally, he was awarded with the WEMAG Soloist Award at Festspiele Mecklenburg-Vorpommern.
Highlights of the past seasons include performances with Los Angeles Philharmonic at Hollywood Bowl, with Camerata Salzburg at Rheingau Musik Festival and at KKL Lucerne, Al Bustan Festival and Ludwig van Beethoven Easter Festival Warsaw, among others.
Tamás performs on Adams instruments and has developed a new design for the C-trumpet together with the company. They are currently working on a new e-Flat trumpet. Besides the classical trumpet he also performs on Flugelhorn and Baroque trumpet.
Tamás Pálfalvi is represented worldwide by Dorn Music GmbH & Co. KG.
Marin Rabadan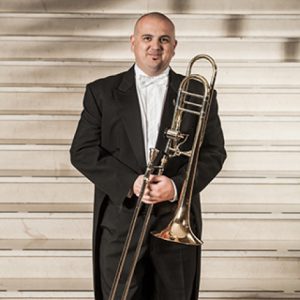 Marin Rabadan was born in Split in 1978. He obtained his primary and secondary music education at the Josip Hatze Music School in Split in the class of professor Đorđe Radovniković. After graduating, he continued to study trombone at the Music Academy in Zagreb in the class of professor Šime Vulelija. In 2000 he started his after graduate programme which he finished in 2008.
At his fourth year of studying at the Music Academy, he successfully passed the audition for the Zagreb Philharmonic Orchestra as the second trombone and since 1999 he has been a permanent member of this orchestra.
Together with actively performing in numerous ensembles and collaborating with Croatian orchestras, he also composes and arranges music. He has been composing since 2000 and has written numerous works for the chamber ensembles and these pieces are still performed today.
He likes to spend his free time with his family, he also studies astronomy, works on music projects for kindergartens and schools, reads comic books and he does all of this while listening to some high quality movie soundtracks, hard rock and heavy metal music.
Matthias Rieß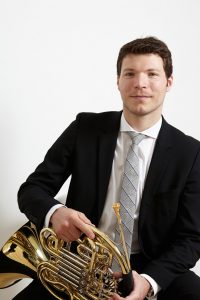 Matthias Rieß was born in Stuttgart in 1983 and studied with Prof. Thomas Hauschild in Leipzig, Prof. Erich Penzel in Maastricht, Prof. Marie-Luise Neunecker in Berlin and Prof. Gergely Sugar in Oberschützen.
He gained his first experience of orchestral playing in the regional and national youth orchestras as well as the Schleswig-Holstein festival orchestra. This was followed by engagements with the State Orchestra of Lower Saxony in Hannover and the Konzerthausorchester Berlin.
Further he played in orchestras such as The-NDR-Symphony-Orchestra Hamburg (Elbphilharmonie Orchestra), the Camerata Salzburg and The German Radio Philharmonic Orchestra in Saarbrücken and Kaiserslautern with conductors such as Daniel Barenboim, Sir Simon Rattle, Christoph v. Dohnanyi, Christoph Eschenbach, Semyon Bychkov, Ivan Fischer, Kent Nagano, Michael Gielen and Fabio Luisi.
Since 2009 Matthias Rieß has been a member of the ORF Vienna Radio Symphony Orchestra. In 2016 he started teaching the French horn at the University of Music and Performing Arts in Graz (Kunstuniversität Graz) and since 2017 Matthias Rieß has held the professorship at the University of Music and Performing Arts in Graz (Kunstuniversität Graz).